Analysis Topic: Economic Trends Analysis
The analysis published under this topic are as follows.

Monday, April 13, 2020
Now scribers, hear the tale of the mightiest battle of humankind. It is the war over the throne of global trade. The ongoing duel between the Rightful King and the Irresistible Force.
With the Joker in the mix now, too.
Five Millenia of Global Trade
What tamed the tribalistic human into a more civilized state long ago was the logic and obvious benefits of trade and travel. From its very beginning, the global means-of -exchange facilitating trade was ultimately gold and its monetary stepchild silver. Even when Western Europeans traded with China, India and many others, the primacy of gold and silver was easily adopted by both sides based on their separate tradition.
Read full article...

Read full article...
---

Sunday, April 12, 2020
The Trump administration will seek an additional $250 billion to support small businesses hurt by the widespread economic shutdown and slowdown. Will the government and the Fed save the US economy? What would be the consequences for the gold market?
US Epidemiological Update

As of April 7, more than 360,000 people were confirmed to be infected by the coronavirus in the US, and more than 10,000 out of them died because of the COVID-19, as the chart below shows. Actually, the US is entering the worst period of the epidemic, as hospitals are struggling to maintain and expand capacity to care for infected patients.

Read full article...

Read full article...
---

Saturday, April 11, 2020
The Fed is more or less doing modern monentary theory (MMT) as we speak.
But rather than giving printed dollars to the Treasury, it's using the bond market as a conduit. Trillions in bond issuance, financed by trillions of dollars of printed money.
Don't get me started on the pathetic levels of assistance we are offering American citizens in favor of financially irresponsible corporations.
What we are practicing here is not capitalism. In order for capitalism to work, we must allow corporations to fail. The bankruptcy process works just fine. Sure, shareholders and creditors would experience losses, and this would teach them to be more careful next time.
Read full article...

Read full article...
---

Thursday, April 09, 2020
Corona Virus Pandemics, spread across the world, necessitates the redefining of Economics & Political Economy, Globalization, Business, Enterprises, Business Models, Education and Technology associated with Business, especially Information Technology. All our concepts of the Economy, Development, Business Enterprises, Globalization, Education, Healthcare, Science and Technology have become meaningless along with the wisdom of the great masters, including Nobel Laureates overnight. UN, World Bank, IMF and WEF have been struggling hard to find a justification for their very identity, existence and relevance./p>
Read full article...

Read full article...
---

Monday, April 06, 2020
Two weeks ago, during a March 17 address to the nation in response to the COVID-19 outbreak, President Donald Trump asked that Americans work from home, postpone unnecessary travel, and limit social gatherings to no more than 10 people.
And last week, on March 27, Trump signed a stimulus package of over $2 trillion dollars to provide relief to an economy on the precipice of collapse.
The aid package includes handouts and loans to individuals, small businesses, and other distressed industries.
Read full article...

Read full article...
---

Saturday, April 04, 2020
Thinking somewhat far off into the future, our researchers believe China/Asia could become the next Black Hole in the global economy. China recently released its March PMI number which came in at 52.0 – showing moderate expansion in Chinese manufacturing. The February Chinese PMI level was 35.7. We strongly believe China wants to show some strength in their perceived economic recovery and that these PMI numbers are somewhat "manufactured for effect".
Read full article...

Read full article...
---

Saturday, April 04, 2020
Since inadequate preparedness prevailed in Europe until recently, the consequent pandemic will cast a prolonged, dark shadow over the regionwide economy – starting with the contraction, followed by the debt crisis.
Around the world, the early economic defense against the economic impact of the novel coronavirus has been by the major central banks to cut down the rates, inject liquidity and re-start major asset purchases.
Read full article...

Read full article...
---

Thursday, April 02, 2020
Rudi Fronk and Jim Anthony, cofounders of Seabridge Gold, discuss the potential ramifications of current U.S. fiscal and monetary policy.
The U.S. monetary and fiscal authorities are shoveling trillions of dollars into the U.S. economy to prevent a collapse of the economy and the financial system. Will this money be repaid or otherwise withdrawn from the system? If not, what consequences can we anticipate? We know under TARP the loans and preference share funding provided to various companies in 2008/9 was largely repaid. We expect most large companies will repay the loans they receive this time also, but the terms will be very easy and they will be made easier if needed. Money for state governments, hospitals and other emergency health-related expenditures is not coming back. Most of the money to smaller companies will likely be in the form of grants if they keep employees on salary. Money directly to individuals will not be repaid.
Read full article...

Read full article...
---

Saturday, March 28, 2020
In the aftermath of the coronavirus, we face the strong possibility of a deflationary depression. We cannot allow that to happen.
This is going to mean significant amounts of government debt, and much of it will have to be monetized by the Federal Reserve. I fully get that means risking an inflationary episode as a result.
In order to get inflation, there has to be a big rise in demand along with a jump in the money supply.
Read full article...

Read full article...
---

Saturday, March 28, 2020
For more than a decade financial markets had been in denial of economic reality – as long as the Federal Reserve continued supporting bubbles. Numerous money managers and financial pundits cautioned investors in vain, as their warnings did not result in a market meltdown – until now.
An economist of the last century, Hyman Minsky, had likened the economy and stock market to a mountainside which is slowly accumulating snow. That snow appears stable until one last snowflake falls and it starts an avalanche. In the last month we did not just get one financial snowflake, but a huge snowstorm in the form of the corona virus – and it, with the already overextended markets caused this real financial avalanche.
Read full article...

Read full article...
---

Friday, March 27, 2020
When it comes to investment risks, one that investors seem to overlook is the risk that their money may not be able to grow enough to keep up with inflation. It can play a significant role in the protection of an investment and therefore, should be taken into account when evaluating the potential success of an investment.
Read full article...

Read full article...
---

Thursday, March 26, 2020
We are already seeing large increases in request for unemployment insurance. It is going to explode. Let's look at this data from Homebase.
A stunning 39% drop in the number of hourly employees going to work in the U.S. just in the 10 days ended Friday, March 20.
Is there anybody who thinks that's not going to increase?
Read full article...

Read full article...
---

Friday, March 20, 2020
Despite China's success in containment, the novel coronavirus is exploding outside China, due to complacency and inadequate preparedness. The impending contraction will compound human risks and economic damage.
Although the epicenter of the outbreak is now Europe, only a few major economies have launched effective battles against the virus. Hence, the rising levels of imported cases in the borders of China and the rest of Asia.
Since complacency and inadequate preparedness prevailed outside China until recently, the consequent global pandemic casts a dark shadow over the global economy. It, too, shall pass, but only with effective global cooperation.
Read full article...

Read full article...
---

Friday, March 20, 2020
Almost everyone who deals in stocks and shares possesses at least a cursory knowledge of the 1929 stock market crash and subsequent Great Depression that crippled the US and sent economic shock waves across the entire globe. With markets tanking on fears of an extraordinarily serious coronavirus event, some are asking if the late 1920s and early 30s could repeat themselves in short order.
The short answer is this: while a second depression is entirely possible, it is not very likely. There are several systemic differences in the financial systems of 1929 and 2020. Moreover, the Great Depression cannot be blamed entirely on the stark market crash. The crash was but a symptom of a much bigger problem. It was also just one factor that went into creating what was arguably the largest financial crisis in modern history.
Read full article...

Read full article...
---

Thursday, March 19, 2020
In this section of this multi-part research article related to the potential economic destruction of the Covid-19 virus event across the global markets (Part I, Part II).
We're going to peer into data related to the GDP and other factors of the US economy. Remember, the US economy is the largest single economy and consumption component in the world. As we suggested in our earlier research, the US and China (combined) account for about 30% of the total global GDP each year. The top 12+ GDP nations on the planet account for just under 80% of the total annual GDP for the globe. What happens if economic activity and global GDP collapse for the next 24+ months because of the Covid-19 virus?
Read full article...

Read full article...
---

Thursday, March 19, 2020
Continuing our earlier multi-part research post related to our extensive number crunching and predictive modeling systems expectations going forward many years, (Part I) this second part will highlight some existing data points and start to discuss the concepts of what the Covid-19 virus event may do to the immediate global economy. Remember, in the first part of this article, we shared research related to the US Fed Funds Rate (FFR) and how the Covid-19 virus event may create an environment of economic malaise over the next 12 to 24+ months as well as potentially disrupt the population and deficits over a 5+ year span.
This type of event is very similar to war (think WWII) in the sense that consumer spending changes, population growth, and levels change, GDP changes and deficits change for all involved. Our researchers modeled the GDP levels from 2017 will now with the intent of attempting to identify probable outcomes of GDP output throughout the world over the next 5+ years. Throughout these types of events, a massive capital shift takes place where consumers within areas impacted by war shift their spending and purchasing habits to address the immediate real needs of their attempted survival. Speculation vanishes. People only spend on things they are confident they can afford to risk their money on. Anyone who is able to take advantage of the displaced or disparaged has a real opportunity to create some real gains if they don't become the next displaced or disparaged individual.
Read full article...

Read full article...
---

Monday, March 16, 2020
One of the worst weeks on Wall Street mercifully ended on Friday.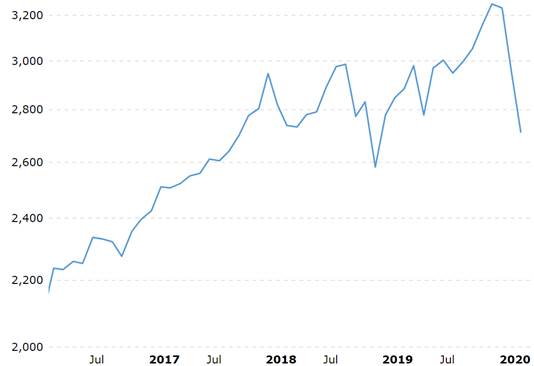 S&P 500

DJIA

Nasdaq
Read full article...

Read full article...
---

Sunday, March 08, 2020
Each and every day we read that Iran is hyperinflating or about to hyperinflate. The same is written about Zimbabwe and Venezuela, as well as a potpourri of other countries that are experiencing inflation flare-ups. While Iran came close to hyperinflating in the fall of 2012, it has never experienced an episode of hyperinflation. And while Zimbabwe experienced episodes of hyperinflation in 2007–08 and in 2017, it is not experiencing one now. At present, Venezuela is the only country experiencing hyperinflation.
It's clear that journalists and those they interview tend to play fast and loose with the word "hyperinflation." To clean up the hyperinflation landscape, we must define the word. So, just what is the definition of the oft-misused word "hyperinflation?" The convention adopted in the scientific literature is to classify an inflation as a hyperinflation if the monthly inflation rate exceeds 50 percent. This definition was adopted in 1956, after Phillip Cagan published his seminal analysis of hyperinflation, which appeared in a book edited by Milton Friedman, Studies in the Quantity Theory of Money.
Read full article...

Read full article...
---

Saturday, February 29, 2020
Bob Moriarty of 321gold rings the alarm bells on the fallout from the coronavirus. Exactly a month ago I warned that the coronavirus outbreak was going to pop the "Everything Bubble." I did something fairly subtle. I buried my main message under a whole heap of cow manure. It doesn't make a rat's ass if I was right or wrong about calling for a market crash in October or the Fed dumping piles of new crisp $100 bills onto a bonfire in September.
This time I'm going to put my message right at the top so no one can miss it. I quote from the January 27th piece, "This has the potential for being the biggest mass casualty event in world history. At the very least it will take down the financial system as the world economy grinds to a halt with efforts to contain the virus."
Read full article...

Read full article...
---

Sunday, February 09, 2020
The Trump administration has just granted its Commerce Department sweeping powers to slap tariffs on countries it decides are manipulating their currencies to the detriment of the United States and its exporting companies.
For some this will come as news; at AOTH, it is confirmation that our earlier warning, reported here, has come true.
In our article 'US prepares for currency war', we warned readers about these new powers when they were first proposed by the US government several months ago, amid its trade war with China.
The Commerce Department now says it will proceed with the plan, which gives Commerce a wide scope of power to decide whether or not a country is under-cutting US exporters by keeping its currency artificially low. Whereas Commerce normally follows the advice of the Treasury Department - which issues a twice-yearly report to Congress on suspected currency manipulators - on whether to impose trade sanctions, the new rules allow Commerce to slap duties on goods from accused countries and individual businesses, even in cases where the Treasury did not find them to be guilty of currency manipulation. Bloomberg neatly explains what broadening the Commerce Department's mandate to impose anti-subsidy duties could mean:
Read full article...

Read full article...
---