Analysis Topic: Commodity Markets - Metals, Softs & Oils
The analysis published under this topic are as follows.

Wednesday, June 13, 2007
We have recently seen long term bond yields climb quickly through key technical levels. On the 8th of June the U.S. 30 year bond yield climbed through 5.30% and the 10 year bond yield reached 5.24%. The 10 year yield was below 4.90% just a couple of weeks ago and today we have seen bond prices drop lower and the all-important 10 year yield shot through the 5.25% and touched 5.28%! The break of the 5% level was psychologically important and on a technical basis we have seen the 10 year yield break through the upper part of a long term downward trend channel and consequently confirming that the low yield of around 3.10% we saw in 2003 marked the top (in terms of prices) of the bond bull market that started in 1981.
Read full article...

Read full article...
---

Wednesday, June 13, 2007
Sean Brodrick writes : After hitting a nine-month high last week, oil took a shellacking. I guess that means we can all breathe easier and go out and buy HUMMER H3s, right? Not so fast!
Gasoline prices are already 27 cents per gallon higher than they were a year ago, and there is plenty of evidence that they're smoking on the launch pad.
What could be the driving force behind oil's next surge? I can't be sure. That's the challenge — we never know exactly what the oil market will throw at us.
Read full article...

Read full article...
---

Tuesday, June 12, 2007
Apparently that's what we are unfortunately destined to continue living in, the Frankenstein economy he largely created during his tenure at the Fed, and continues to influence to this day. To this, whether intentional or not, and like his most famous irrational exuberance warning from 1996, his comments have the effect of getting people to react, which in the end is to the Fed's benefit. That is to say, if more people run out over the next couple of days and short the stock markets around the world because of this most recent warning on Chinese stocks , then the Fed's mandate will be aided considerably with the floor that will put under prices, that being the maintenance of price stability. So you see, this is just Al the egomaniac extending his influence throughout the world, along with that of the Fed, and the US effectively of course.
Read full article...

Read full article...
---

Tuesday, June 12, 2007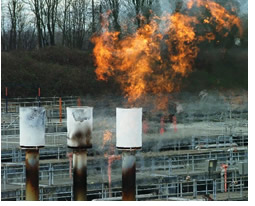 Carbon traders are utilizing the Kyoto Protocol's clause on 'certified emission reduction' credits to capitalize on China's vast coalbed methane reserves. The Asian director of Fortis' carbon trading desk calls China's methane 'easy pickings.' For every tonne of methane captured, about 20 tons of CO2 credits are obtained. CBM projects in China should indirectly benefit from foreign capital racing to exploit these credits before they expire in 2012
Read full article...

Read full article...
---

Tuesday, June 12, 2007
This week in Outside the Box we take a quizzical gander at the gold market, its growth-to-date, and potential future investment opportunity. We have witnessed a significant rise in the gold market from a July 1999 price of $252 an once, to $653 an once today, an increase of 159%. David Galland, of Casey Research, provides an intriguing analysis of the gold market today and the inherit investment opportunity existent on account of severely curtailed research exploration, institutional obstacles, NGOs, and rising global demand, driven primarily from the emerging market economies.
Read full article...

Read full article...
---

Monday, June 11, 2007
Coal is far and away the world's most-important source of electric power and has been for decades. There are two good reasons for this:
Coal is more abundant than oil or gas, and it's cheap.
Coal is a greater pollutant than either natural gas or emission-free nuclear power. But new scrubbing technologies and plant designs can minimize that pollution. And there's no way the world could replace all its coal-fired plant capacity in any reasonable time frame.
Read full article...

Read full article...
---

Monday, June 11, 2007
The outlook for silver at this time is remarkably similar to that for gold and for the same reason - they are both threatened by a looming substantial rise in the dollar, which if it occurs, as now looks likely, will result in both gold and silver going into retreat and leaving behind large Double Tops on their charts.
Read full article...

Read full article...
---

Monday, June 11, 2007
This Gold Market update makes grim reading - if you believe it that is. Gold had been weakening and rounding over since its late February high, and on Thursday and Friday it dropped sharply, breaking below its uptrend in force for nearly 2 years, from July 2005, for the 1st time, after deceptively rising away from it.
Read full article...

Read full article...
---

Sunday, June 10, 2007
Joe Nicholson (oroborean) writes:
"Now that both gold and silver have climbed above, the 5-day moving average becomes an important support level which, though not inviolable, signals a relatively low risk/reward trade … losing the 5-day average in a single week from a fresh high that marks the crucial turn and ultimate retreat back into the 50-day level …
… If the impetus to cut rates is in fact removed, bond yields could be expected to reach a more historically normal level, above the overnight rate at 5.25% … it's not the nominal rate, at least not at anywhere near these levels, as much as the rate of increase that would determine the effect on stocks and metals."
Read full article...

Read full article...
---

Sunday, June 10, 2007
WOW! Nibble, nibble, nibble then plunge, plunge. Now what should we expect? Five days of down side, one should expect a few up sides BUT would you put money on that?
GOLD : LONG TERM
A couple of scary days but we're still a long way away from going bearish on the long term P&F chart. That point is still the $600 level.
Read full article...

Read full article...
---

Saturday, June 09, 2007
A major news service ran a couple of feature stories on the Internet this week on the topic of high gas prices. Although different in the details, it was substantially similar to articles they've run off and on over the past two years. This particular article seems to appear whenever gas prices get so high that Americans start grumbling and passing around that chain e-mail about boycotting ExxonMobil.
Read full article...

Read full article...
---

Friday, June 08, 2007
Two years ago I suspect American investors would have unanimously scoffed at the notion that the world would soon look to China 's stock markets for guidance rather than the USA 's. Yet here we are today. Over these past two years the Shanghai Stock Exchange Composite Index has soared a breathtaking 328%, capturing the world's attention.
At best at the end of May, the SSEC was up 62% this year alone! Such gains are clearly unsustainably parabolic which place the Chinese stock markets deep into classic bubble territory. And the amazing stories coming out of China these days reflect mania extremes. From an accelerating day-trading craze, to record numbers of new stock-trading accounts being opened, to even lowly Chinese laborers giving stock tips, China is caught up in the throes of a textbook stock mania.
Read full article...

Read full article...
---

Friday, June 08, 2007
This week in a Special Outside the Box we look at the discussion of alternative energy sources, specifically, ethanol derived from corn or sugarcane. The Stratfor piece discusses the economic implications of ethanol usage; geopolitical ramifications in terms of how current oil producers will be affected, comparable cost advantages between corn and sugarcane processing, and the advantages and disadvantages of ethanol production and consumption.
Read full article...

Read full article...
---

Thursday, June 07, 2007
Larry Edelson writes: Gold's looking great! After a brief pullback earlier last week, the yellow metal jumped almost $10 an ounce to well above its recent strong uptrend line that dates back to October of last year.
And while gold's not out of the woods yet, my indicators tell me that once it closes above $682 — a new leg up will begin, and gold will soar to new record highs, well above $732 an ounce, and probably over $800!
Read full article...

Read full article...
---

Thursday, June 07, 2007
Sean Brodrick writes A funny thing is happening on the way to the next U.S. recession — the rest of the world is forgetting to come along.
Sure, the U.S. economy may be slowing down precipitously — gross domestic product expansion was just revised down to 0.6% for the first quarter. But the global economy is expected to grow at a 4.7% pace in 2007, and may accelerate in 2008.
Read full article...

Read full article...
---

Tuesday, June 05, 2007
In this issue we resurrect the old Nuggets format to accommodate several analysts who surfaced last week to say that we may have reached a turning point in the gold market. If last week's lows hold, the corrective process took all of a 6% bite out of the price.
The charts continue to display a bullish pattern of rising lows and strong buying on the dips. What's more, we are back within roughly $20 of the interim highs. Perhaps commodities analyst Dan Norcini said it best: "All in all, this week will sure go a long way to soothing the hearts of weary gold bulls who will probably be seen walking around town with a much lighter step than they possessed last weekend.
Read full article...

Read full article...
---

Tuesday, June 05, 2007
Record nickel prices are driving stainless steel manufacturers to substitute other metals, such as chromium and manganese in their composition. One metal increasingly being used in a growing number of applications, for which there is less possibility of replacement is molybdenum. Growing demand accompanied by less and less supply is driving the molybdenum price higher. Some believe it could jump another 50 percent in the near future.
Read full article...

Read full article...
---

Tuesday, June 05, 2007
It has been a rough past few weeks for the silver stocks, with some taking more of a hit than others. A few "name" stocks like Coeur d'Alene (CDE) have born the full brunt of the bears' fury while other stocks have held up quite well and some have even gone on to make new highs in spite of the recent correction. We'll take a look at some of these stocks in this report.
Read full article...

Read full article...
---

Tuesday, June 05, 2007
After months of consolidation, Natural Gas now appears ready to climb over a rigid resistance line and advance considerably higher. This move should also start driving gas stocks upward starting in June.
Read full article...

Read full article...
---

Monday, June 04, 2007
Well, the U.S. reported this past week data on economic performance in the first quarter of 2007. Real growth was 0.6% and the GDP deflator, or inflation, was 3.6%. Speculative fund managers took this as good news, somehow. Inflation during the first quarter was running six times that of inflation. In short, most of what is going on in the U.S. economy has been inflation. Then on Friday came the report on employment in the U.S. Someday the truth will be told on the employment report, but not this week. About 1/3 of the workers added in May were jobs at bars, restaurants, and hotels. Is that economic growth, or laid off construction and factory workers taking any job they can find?
Basic Trend: $Gold Up. Investors should focus on Buy signals. Strategy: Positive, per Investment Policy of Oct 2004.
Investment Policy: Act on buy signals. Hold long-term core position.
Read full article...

Read full article...
---