Analysis Topic: Currency Market Analysis
The analysis published under this topic are as follows.

Thursday, April 26, 2007
Without shying away from controversy, we do away with a number of myths of why the dollar ought to move up or down.
Myth I: The dollar is safe because the U.S. has ample assets
Some say the current account deficit that requires foreigners to arrange for over $3 billion of capital inflows every business day just to keep the dollar from falling does not matter. These pundits say a deficit of 6.5% of Gross Domestic Product (GDP) is sustainable because the deficit is only about 1% of all private assets held in the U.S.; as a result, deficits could be carried a long, long time.
Read full article...

Read full article...
---

Tuesday, April 24, 2007
Last December we wrote in "They Are All Sinking" about how our present monetary system is a dollar based system and how it has evolved. We also noted how all the major so called hard currencies, along with the dollar, had been losing value against gold since 2001. In part II we will be giving an update on how the major fiat currencies are faring against gold at the present time.
We recommend readers go over to part I in order to get a better idea of how our fiat monetary system has evolved.
Read full article...

Read full article...
---

Wednesday, April 18, 2007
Going into Thursday's trading, FX traders will watch the return of major economic data from the US and Canada. But before previewing these events and their FX implications, it's worth giving synopsis on what happened in the NY session. There are some doubts about the durability of the carry trade (selling yen across the board simultaneous with rising gold and equities).
We have seen in early morning NY (around 8-9 am EST) how the yen rallied across the board, dragging the dollar, pound and euro. Rumors of a hedge fund caught in the wrong side of the rising pound and as well as rumblings of renewed reports of sub-prime defaults also led to some unwinding, which caused US stocks to open lower. With US equities struggling into record territory, a loss of momentum could easily turn into sharp selling in the event of a weak reading in the leading indicators and Philly Fed index.
Read full article...

Read full article...
---

Sunday, April 15, 2007
This weekend I am in La Jolla at good friend Rob Arnott's conference. Princeton Professor Burton Malkiel, of Random Walk fame, will be one of the luminaries at the annual Research Affiliates Advisory Panel. So, with that thought in mind, this week we take a seemingly random walk through the data to see if we can discern a trend.
How much debt does it take to grow GDP? You probably missed it, but the Bureau of Labor Statistics gives us data that contradicts the recent labor numbers. Why is consumer sentiment so moribund? And that recession I predicted for 2007? I have a few thoughts on that as well. It should make for an interesting letter with a lot of great charts and graphs.
Read full article...

Read full article...
---

Friday, April 13, 2007
The dollar is no longer responding to traditional stimulants. This week, despite the apparently "hawkish" tone in the recently released Fed minutes, and trade deficit figures that were slightly less horrific than expected, the dollar nevertheless declined against just about every currency on the planet. As a result, it now teeters dangerously close to the edge of a very large precipice. Looming large is the 80 level of the U.S. Dollar Index which has stood as long term support for almost thirty years.
This week, the Index broke below 82, and is sinking fast. When this critical level is breached, look out below. Without any support beneath it, the dollar could literally fall off a cliff.
Read full article...

Read full article...
---

Thursday, April 12, 2007
The American people are in La-la land. If they had any idea of what the Federal Reserve was up to they'd be out on the streets waving fists and pitchforks. Instead, we go our business like nothing is wrong.
Are we really that stupid?

What is it that people don't understand about the trade deficit? It's not rocket science. The Current Account Deficit is over $800 billion a year. That means that we are spending more than we are making and savaging the dollar in the process. Presently, we need more than $2 billion of foreign investment per day just to keep the wheels from coming off the cart.
Everyone agrees that the current trade imbalances are unsustainable and will probably trigger major economic disruptions that will thrust us towards a global recession. Still, Washington and the Fed stubbornly resist any change in policy that might reduce over-consumption or reverse present trends.
Read full article...

Read full article...
---

Thursday, April 12, 2007
Larry Edelson writes : Recently I told you how the Dow has lost over 50% of its value since 2001, despite its recent gains. Put another way, if you bought all the stocks in the Dow Jones Industrials back in 2001, the purchasing power of your investment today would be less than half what it was back then.
I don't know about you, but I think losing 50% of your money's purchasing power is an outright disaster. Even worse, most investors fail to recognize this has happened. That's because the government is lying about inflation.
Today, I want to talk about the root of the problem — the terribly weak U.S. dollar. And I'll tell you what its consequence, rising inflation, means for your portfolio. Because if you don't grasp what's happening, your investments will get killed.
Read full article...

Read full article...
---

Thursday, April 12, 2007
Hardly a dull moment in the currency market these days. Much attention centers upon central bank actions. The Bank of Japan held steady, as world speculators thank heavens. The Euro Central Bank held steady, as the US bankers thank heavens. But the ECB aint done hiking. The Bank of England held steady, just like the ECB, but earlier. The Reserve Bank of Australia held steady, from Down Undah. The Bank of Canada held steady, but now markets think they could hike soon. We live in a bond driven world, totally divorced from economic fundamentals, trade deficits, mismanaged economies, and bankrupt policies.
Some brief points are provided on currency matters, each detailed more fully in the April Hat Trick Letter due out over next weekend, the US income tax deadline. They all are pertinent to gold. From the other side of the chasm is the housing & mortgage crisis, another impetus for gold. Let it be known we have a 3-SIGMA event on our hands, a credit derivative early stage in the meltdown.
Read full article...

Read full article...
---

Wednesday, April 11, 2007
The dollar is little changed after the release of FOMC minutes, which shed more detail on the Fed's decision to downgrade its view on growth and housing, but also stepped up its inflation vigilance. The minutes noted that: "Most participants continued to expect that core inflation would slow gradually, but the recent readings on inflation and productivity growth, along with higher energy prices, had increased the odds that inflation would fail to moderate as expected" . Such a statement affirms that inflation remains the principal risk to the Fed's economic assessment even as it witnesses the gradual data deterioration of the US economy.
The minutes will help provide some support to the greenback until Thursday's data releases.
Read full article...

Read full article...
---

Thursday, April 05, 2007
The dollar drops to fresh 2-year lows against the euro, on the combination of pre-job reports jitters and pre-holiday thinning trading volumes. The slight increase in US weekly jobless claims rose from 310K to 321K is firmly placing the focus on tomorrow's jobs reports, which may be expected to deliver further disappointment following the employment components of the services and manufacturing ISM. Today's FX moves remain largely euro specific as the currency rallies from all cylinders, including EURGBP exploiting the Bank of England's decision to hold rates unchanged.
Read full article...

Read full article...
---

Thursday, March 22, 2007
On the eve of the next war front to explode in the Persian Gulf region, some thoughts on the energy sector seem appropriate which attempt to tie some factors together. In the last two to three years, the biggest challenge to analysts is not so much identification of certain relevant effects, as it is integration of analysis on a several simultaneous patently clear crucial factors for correlation. To friends an assessment has been often used by me, "This is five dimensional chess, and at any one time, three dimensions are dominant. All are linked increasingly and with more complexity. The challenge is to finger the most important pairs of factors." That covers it in my opinion.
The tight relationship between the crude oil price and the USDollar valuation is historically well known, firmly in place for over three decades. While the United States owns control of the world reserve currency, a delicate PetroDollar linkage factor remains in force. Since large oil purchases are conducted in US$-based transactions, entire banking systems are designed accordingly so as to handle those transactions.
Read full article...

Read full article...
---

Wednesday, March 21, 2007
Recall that Fed Chairman Bernanke issued a less upbeat speech in last month's Congressional testimony, following a more optimistic January FOMC statement. Since the data have been markedly weaker since February, the Fed has no choice but to tone down the optimism in the phrase indicating "recent indicators have suggested somewhat firmer economic growth."
The dollar gains ground against the yen and European currencies, with the latter under pressure primarily due a surprisingly dovish release of the minutes from this week's Bank of England rate decision showing 1 vote calling for a rate cut against eight members voting for no change. Markets were pricing a 7-2 decision with the 2 members calling for a rate hike.
Read full article...

Read full article...
---

Tuesday, March 13, 2007
Retail sales grew by less than expected at 0.1% in February after a flat showing in January, while sales ex-autos fell 0.1% from 0.2% in January. This weak report coupled with the downward revision in the January core sales should further drag on US Q1 GDP . We're not sure about the validity of claims by some economists attributing the weakness to cold weather, when February is a month known for its cold temperatures. The decline in sales was broad-based, even when excluding autos, gasoline and building materials.
The weakness in retail sales comprises an economic argument to trigger further unwinding in the yen carry trade, in which point it will extend to other dollar pairs. Unlike the carry trade unwinding of two weeks ago, which was largely market-based and only limited to low yielding currencies, today's report triggers an all round sell-off in the US dollar, lifting EURUSD above 1.3220 and GBPUSD above 1.9340.
Read full article...

Read full article...
---

Tuesday, March 13, 2007
Millions of words have been written about the heavy handed tactics of Japan's Ministry of Finance (MoF) in manipulating the value of the Japanese yen, the Japanese bond market, and squeezing short sellers in the Nikkei-225 futures market. Manipulation of markets through the use of jawboning, re-jigging of inflation statistics, and outright intervention is a time honored tradition at the MoF.
Japan's Ministry of Finance is a political, economic, and intellectual force without parallel, and with a greater concentration of power than any branch of government amongst the major industrialized democracies. In Japan, there is no institution with more power, and it has a borrowing ceiling for foreign exchange intervention of up to 140 trillion yen ($1.2 trillion) for the upcoming fiscal year.
Read full article...

Read full article...
---

Sunday, March 11, 2007
How does the carry trade work?
It's actually very simple. Here is a fictive example from Wikipedia depicting the process:
Bank ABC is borrowing X billions of Yen at 0.0% interest rate in Japan.
Bank ABC is converting X billions of Yen in $USD.
Bank ABC is investing the amount of $USD at 4.5% interest rate in USA with 10x leverage.
Bank ABC profit is (4.5%-0.0%) * 10 = 45.0%
Seems too good to be true! What is the catch?
If the Yen appreciates in value vs. the $USD, Bank ABC may lose a significant amount of money.
Read full article...

Read full article...
---

Thursday, March 08, 2007
Wednesdays release of a weaker than expected ADP report (forecast for private employment payrolls) showing the net creation of 57K jobs in February, suggests that Friday's release of February non-farm payrolls may come in well below consensus estimates of 100K.
The ADP report has been generally effective in predicting whether non-farm payrolls would come in above or below consensus forecasts, rather than predicting the actual figure.
Read full article...

Read full article...
---

Thursday, March 08, 2007
Oil is priced in the U.S. $, which makes it one of the vital interests of the U.S. Without this backing to the $ we have no doubt the path of the $ to the global reserve currency would have been impaired and be undergoing a major attack by now. The thought of oil being priced in currencies other than the $ poses a threat to the credibility of the U.S.$ of major proportions. Any talk of a switch to pricing in other currencies [let alone an actual switch] poses a threat to the U.S. $ in its reserve currency role. This threat is now a real one and poses a considerable danger to the $ in time.
Read full article...

Read full article...
---

Tuesday, March 06, 2007
For years now we have warned of tsunami like capital waves crossing the globe bringing financial drama with it. We have pointed to the structural problems that could give rise to the damage these waves will cause. We have warned of the Central Bank's moves away from the U.S.$. We have also warned of the damage the Trade deficit is doing to the U.S. We have also warned of global foreign exchange and rates crises.
We coined the expression "Live now, Pay later" syndrome that has been all-pervasive in the U.S.A. Add this to the "so far, so good" attitude and what happened this week in global markets has been long overdue. It signals that globalization and the free flow of capital across this globe of managed foreign exchange rates, plus the interdependency of global economies will undermine all paper currencies to some extent. This week saw that begin . Probably a group of global funds thought the time was ripe in many markets to rattle some cages and down the markets went. That they should have this ability and power is the frightening thing and the situation can only worsen as other speculators and fund powerhouses get the scent of this action.
Read full article...

Read full article...
---

Sunday, March 04, 2007
The US Dollar strengthened late last week, especially against much a weaker British Pound, which ended Friday on a weak 1.9430. The Pound earlier in the week again failed to get anywhere near breaching the previous high of 1.9890.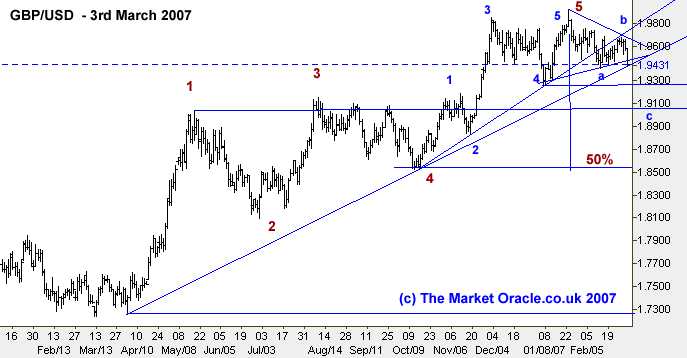 Read full article...

Read full article...
---

Wednesday, February 28, 2007
We have great news from our network associate, Elliottwave.com. We have arranged FREE ACCESS to Elliottwave.com's Premium intraday and end-of-day Forex Forecast subscription service worth $99, for one full week for all of our site visitors!
Beginning March 1 at noon EST and ending March 8 at noon EST, anyone gets complete access to EWI's Currencies Specialty Service - Forex Forecasts at no cost! Your access includes:
Read full article...

Read full article...
---