Analysis Topic: Commodity Markets - Metals, Softs & Oils
The analysis published under this topic are as follows.

Monday, March 05, 2007
If I repeat first of all what I said in last week's update: "Silver could approach the old high of $15 before dropping back to near $14 which will be the last decent buy point before we soar."
That was half right and half wrong. Silver continued on up to a spot intraday high of $14.68 (though the futures got as high as $14.885 on Monday) and then dropped. It did not stop at $14 however. I also suggested:
"I think that silver has only a week or so to test $15 before being pulled back to perhaps its 50 day moving average. When silver moves into a bullish phase, the 50 day moving average takes over from the 200 day moving average as the baseline."
Read full article...

Read full article...
---

Monday, March 05, 2007
On 21st February an article was posted titled COMMERCIALS ON THE ROPES. This article was based on the erroneous presumption that "this time round it will be different" - that the COT pattern would be broken by a surge in physical demand.
Well, as subsequent events have proved, this time round it wasn't different, it was the same as it has always been. The Commercial shorts rose to a very high level and gold's advance was killed and it went into sharp reverse. This was a serious error of judgment that will not be repeated.
Read full article...

Read full article...
---

Sunday, March 04, 2007
It's true that the buying power of gold and silver could increase considerably during a period of acute economic calamity. But, as economists and other analysts have been quick to note over the past few days, the current data simply do not decisively forecast a recession in the U.S. , let alone a catastrophe of apocalyptic proportions. Yes, mortgage defaults are still a legitimate concern, but the numbers simply don't show any significant spillover from the housing or credit bubbles, at least not yet.
The most recent manufacturing data actually indicates a modest recovery in that sector. Even weak capital expenditure in the durable goods data, the seeming straw that broke the camel's back, is a shot across the bow, but hardly a sign of the end times.
Read full article...

Read full article...
---

Sunday, March 04, 2007
WOW! but no time to panic -- yet. Not good short term but still okay for the other time periods. Let's get on with the analysis.
GOLD LONG - TERM
Getting right to it, the long term P&F chart has reversed direction but not trend . What this means is that on the chart we are now heading downwards with the O s but have not issued a reversal of basic trend yet. On the long term chart we are still some distance to any kind of trend reversal signal so hang on to your hats, we may be in for more volatility ahead. At the present time the action would have to go as low as $555 before issuing a new bear signal. With some up and down volatility, enough to reverse the direction of the chart again, that could be increased to the $600 level but let's see what transpires. For now, the long term, per the P&F , is still intact.
Read full article...

Read full article...
---

Sunday, March 04, 2007
Gold Truly Didn't Shine this Week
After trying to test without any success the $700 psychological level, the gold commodity plunged by more than $50 to nearly $640 this Friday from its short term top of $690. In the potential bear market that may occur in equities, are gold and gold stocks really safe investments in a mid term perspective? This is the question we will try to answer in this analysis using mainly the Elliott Wave Theory.
The Gold Commodity
The first question before starting the analysis is: When did the bull market in the gold commodity really begin? By looking at gold commodity in $USD, it's not that easy to answer this question because there are two possible periods: either mid 1999 or early 2001.
Read full article...

Read full article...
---

Wednesday, February 28, 2007
Gold and silver were caught in the downdraft of selling on the stock exchanges today but having surged from last October's lows, a respite was always looming as the price increased.
However, the subject of this article is not the short-term movement of gold but where the next major sell point will be. There are various commentaries suggesting that gold will move fairly easily into quadruple digits with some breath to spare. I agree with these analysts that gold will move into four figures and then some. The only argument is when?
Read full article...

Read full article...
---

Tuesday, February 27, 2007
Last week was a very interesting one here in Ajijic , Mexico , land of tacos, tortillas and tequila. We had representatives of a private European bank here visiting current clients, making a presentation of their organization and recruiting new clients/investors for their bank.
Our village is always on their list of locations to visit because of the large numbers of Americans and Canadians living in this community. Most investors are advised of the need to get some monies outside the U.S. and Canada so this was a great opportunity to see what this European bank had to say.
Read full article...

Read full article...
---

Tuesday, February 27, 2007
This week's market wrap will be shorter then usual, as we are on vacation. Next week the full market wrap will return.
The following will focus mainly on the precious metal's markets, which made nine-month highs this past week.
The first chart below is the daily chart of gold. The chart is self-explanatory.
Read full article...

Read full article...
---

Monday, February 26, 2007
It has been a while since I have talked about ratio analysis and because of a few developments of late, I thought that this may be a good time to do so. First, let me begin by explaining to those that may not understand, a ratio chart is calculated by simply dividing one stock or commodity by another.
This in effect then shows us the "Relative Strength" of the two. We can then take this analysis one step further by comparing the ratio chart to the underlying stock or commodity and even applying indicators to the equation. Let's take a look at a few examples.
Read full article...

Read full article...
---

Monday, February 26, 2007
Although silver did not stage such an obviously important breakout as gold last week, it did nevertheless rise in tandem, and succeeded in breaking out above important resistance at its early December highs, putting it in position for "The Big One", which will be the breakout above last year's highs at about $15.20, which is an objective that silver, with its propensity for big moves could easily achieve in a single day from the current position.
Read full article...

Read full article...
---

Monday, February 26, 2007
Tuesday was a bummer. Was someone playing around with the bullion? Wednesday was back on track and everything looks great.
GOLD - LONG TERM
Well, we now have a stronger confirmation on the long term P&F chart that the bull is on once more. The original upside break at $660 still had some resistance from earlier action but that was breached by the move to $690 this past week. Yes, there still is that previous high set last May but that is expected to be breached in not to distant future. When we draw our 45 degree up or down trend lines we can often draw a parallel resistance or support line.
Read full article...

Read full article...
---

Monday, February 26, 2007
Once or twice every century, investment opportunities come along that, if understood and acted upon, create incredible riches.
Maybe this is the year you take that once-in-a-lifetime cruise, or you're paying tuition for a child or grandchild. Perhaps you simply want the peace of mind and security that comes with having bundles of money in the bank. Whatever your personal investment objectives, think "URANIUM".
A fundamental understanding of uranium will likely prove to be the single most profitable way to protect and grow your nest egg in the years ahead. Investors who truly grasp the famous Wall Street adage "don't fight the chart" have an opportunity to get in on the ground floor of what will likely be the most impressive secular bull market of the 21st century.
Read full article...

Read full article...
---

Monday, February 26, 2007
Gold has gone and done it - after first breaking out upside from its 3-arc Fan Correction in January, a major positive technical development celebrated in the article Gold powering up for major uptrend - SECTORWIDE BUY ALERT , last week it smashed through the ceiling of resistance at and towards $680, with subsequent solid action confirming that this was a genuine breakout.
In the Gold Market update of 23rd January it was stated "The situation is now very finely balanced with an army of traders either sat on the fence, or, depending on which way it breaks, on the wrong side of the trade. When it does break out - and it is beginning to look like it will be to the upside, there will be a stampede and an upside breakout from here could thus easily involve a $20 - $30 up day for gold." As you all know, that is exactly what we saw last week.
Read full article...

Read full article...
---

Monday, February 26, 2007
After long fall and winter seasons of expecting only gradual upward trends in the metals, with suspicion of large, fast moves, the bias of this update shifted two weeks ago as we described all the bullish fundamentals aligning in favor of the metals complex. We warned traders that a breakout had not yet occurred and that, while there was enough demand to prevent an all-out selloff, buyers should look for favorable entry points (we even took the opportunity to do a little shameless self promotion and mention our proprietary trend charts).
Specifically, we said:
"Even with bullish seasonality, money supply inflation, higher demand and geopolitical instability all creating a floor beneath gold and silver, it's still going to take a decisive catalyst to send these metals rocketing back to last May's highs and beyond."
Read full article...

Read full article...
---

Sunday, February 25, 2007
A record number of uranium bidders competing for a small amount of uranium drove up the price by a record dollar amount to the highest price in history. Uranium has now become a precious metal.
Newly mined uranium remains 'highly sought after' maintains Nuclear Market Review (NMR) editor Treva Klingbiel in the February 23rd issue of the weekly trade magazine, servicing the utility and nuclear fuel industry. It was no more evident than at this past week's spot auction for U.S.-mined uranium.
The record $10/pound price increase, reaching a new spot uranium record of US$85/pound, was, according to Klingbiel, "the single largest (dollar) increase recorded since prices were first published in 1968." TradeTech posts the weekly spot uranium price, as reported in NMR, on the consulting service's website.
Read full article...

Read full article...
---

Friday, February 23, 2007
Larry here, with an urgent update on key markets, starting with gold.
The yellow metal went through the roof yesterday ... chalking up a stunning $23 gain on the day, blasting through its July peak ... and launching a price explosion that could easily send it to new, all-time highs very quickly.
Ditto for oil, which surged $1.22, and is now poised for a major new bull market.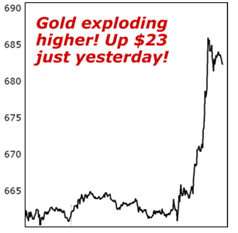 Read full article...

Read full article...
---

Thursday, February 22, 2007
As we anticipate the next and final leg of phase I of the precious metals bull market, investors need to be ready with their exit strategies if they wish to unload all or part of their assets in a profitable manner.
Not all holders of gold and silver will be of this mind, each has their own reason for holding or not holding any part of their investment. Either way, you need to be sure what you are going to do as silver begins to move in leaps and bounds towards the next major price peak.
Read full article...

Read full article...
---

Wednesday, February 21, 2007
Some people thought I was mad posting a GOLD and SILVER BREAKOUT ALERT on www.clivemaund.com on the 19th, what with the Commercials being so heavily short gold, and with yesterday's action I began to wonder myself, which is why it didn't get posted on public websites on the 20th as originally planned. The reason for posting that breakout alert was that a rare technical setup exists that actually makes the Commercials' huge short position wildly bullish.
Read full article...

Read full article...
---

Monday, February 19, 2007
Whilst other commodity markets have recently raced a head, Coffee has been marking time. What we now need to know is whether the time is now near for Coffee to to shift gears and start its own bull run to much higher prices. Most recent price action has taken coffee down from 130 to 113 (March 07), with the immediate trend still down, giving us the opportunity to enter at the earliest price trigger coming off of a low.
Read full article...

Read full article...
---

Monday, February 19, 2007
"The expectation therefore is that the action of a single day will not to buck the larger trend, which is for yields to continue their move lower."
For the last two weeks, this update has been alerting readers to the fact the U.S. economy needs lower interest rates, in the form of bond yields, and household liquidity, in the form of a higher stock market. The effects of these moves would be to encourage buyers' working off the housing supply glut and to save the mortgage lending industry from collapse. It must be simply a coincidence that the pace of both these trends, lower yields and higher stocks, accelerated last Wednesday on Chairman Bernanke's testimony.
Read full article...

Read full article...
---