Analysis Topic: Economic Trends Analysis
The analysis published under this topic are as follows.

Wednesday, March 14, 2007
Three quarters of below potential growth and counting.
As everyone knows, the housing recession is the biggest drag on the pace of economic activity right now. But is the housing recession at its bottom? And more importantly, are there negative multiplier effects emanating from the housing recession? With regard to whether the housing recession has hit bottom; it is doubtful. In an average housing downturn, real residential investment expenditures decline by about 25% peak to trough.
Chart 1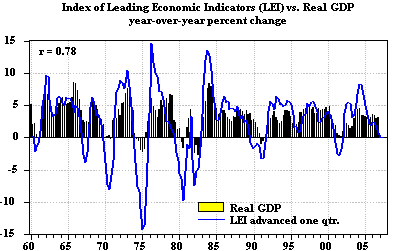 Read full article...

Read full article...
---

Wednesday, March 07, 2007
U.S. Treasury Secretary Henry Paulson expressed confidence in the global economy - "We have a very strong global economy," Paulson said after a meeting with South Korean Finance Minister Kwon O-kyu. "We have a global economy with low inflation, high levels of liquidity and I feel very comfortable with the global economy."
Read full article...

Read full article...
---

Friday, March 02, 2007
With the recent sharp decline in the stock market, the timing of the official release of my new book "Crash Proof" this Monday could not have been better. Ironically the media and Wall Street are assuring investors that the fundamentals have not change and that all is well. Of course what these market cheerleaders do not understand is that the fundamentals are just as lousy now as they have always been. In fact, they are about to get a whole lot worse!
Despite the upbeat tone coming out of Washington and Wall Street, the U.S. economy is only a shadow of its former self. The country has gone from being the world's largest creditor to its greatest debtor; the value of the dollar is sinking; domestic manufacturing is winding down -- and none of these trends seem to be slowing down.
Read full article...

Read full article...
---

Friday, March 02, 2007
While many argue that the Consumer Price Index is a flawed indicator (some claim it understates inflation and others claim it overstates inflation), it does generate heated debate and can act as a catalyst for stock-market activity. In the context of Fed Chairman Bernanke's relatively dovish comments before both houses of Congress last week, a surprise on the CPI data could easily spur market volatility this coming week.
Currently the consensus estimate is for a +0.1% M/M on the CPI, which is below trend, and would be bullish for stocks. The most recent Y/Y reading stands at +2.61%...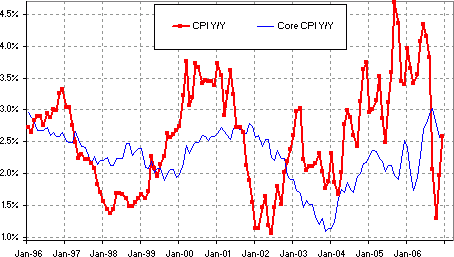 Read full article...

Read full article...
---

Thursday, March 01, 2007
Events in the last week have certainly caused a stir. Just what precipitated the broad global selloff. Was it the unwind of the Yen Carry Trade, a week delayed? Was it only attributable to the Chinese and their more stern stance against adolescent credit abuses in the Middle Kingdom?
Was it Al Greenspan's comments on an economic recession looming near on the horizon? Was it caution on risk pricing in view of the insane Iran vs USA posturing in the Persian Gulf? Was it Goldman Sachs orchestration with collusion from Beijing, after massive short positions were put in place? Were the GSax powers motivated by the alarms going off in the gold and silver markets, as gold neared $700 and silver passed $14? Methinks all the above, never just one factor in an increasingly complex financial world. The global markets have become a tangled web.
Read full article...

Read full article...
---

Thursday, March 01, 2007
With gold up at $680, it looks like $700 is around the corner. So then, if a big gold surge is around the corner, one may ask, what is a longer term prognosis for not only gold but financial markets? Answer: first inflation and then deflation.
Right now, the world is inflating like mad. Money growth in most of the major world economies is near or exceeding 10% a year, and China is the biggie at 18% plus. That, combined with historically low interest rates is causing huge finance and asset bubbles. Central banks are way behind the inflation/interest rate curve right now, and are basically stuck in that rut because if any of them combat inflation by raising interest rates, they find their currencies strengthen, and lose market share.
Read full article...

Read full article...
---

Thursday, March 01, 2007
Economists are now arguing over whether it will be a hard or soft landing for the U.S. economy. The fact that a landing will occur is no longer debatable. Empirical evidence demonstrates that the fragile U.S. economy is growing weaker with each passing piece of government data. Anemic GDP, durable goods, Chicago PMI, ISM-Manufacturing, and Factory orders, along with rising unemployment claims are suggesting that the Fed will stimulate the economy with yet more liquidity this year. The Fed and the economy/market may find itself in a box next year—a Bernanke Box—one that puts the economy squarely at odds with the dollar.
The Fed's mandate is to maintain dollar stability. However, they may have to decide whether to rescue a falling currency by hiking rates or to lower rates in order to stave off a recession. Which posture they take will have major ramifications for the bond, stock market and the economy.
Read full article...

Read full article...
---

Thursday, March 01, 2007
When the most esteemed market strategists espouse questionable economic theories, they should not be able to do so without being exposed to critique. Recently, two revered men of finance, Bill Gross and John Rutledge, made some pretty extraordinary comments, remarks which haven't gotten the attention they deserve.
Let's Make Nothing!
Read full article...

Read full article...
---

Wednesday, February 28, 2007
Among the several economic reports due for publication this week -- new home sales, existing home sales, consumer confidence measures, durable goods orders, preliminary estimate of fourth quarter real GDP, and ISM manufacturing survey results for February, construction outlays for January, and the personal income and outlays report for January-- the Fed's preferred inflation measure will garner a great deal of attention.
The core personal consumption expenditure (PCE) price index, which excludes food and energy, advanced 2.22% in December, representing a deceleration from the 2.44% peak seen in August. This improvement is important because core inflation is heading in the direction of the FOMC's comfort zone of 1%-2%. However, after the January Consumer Price Index (CPI) was reported, there were concerns about the January core PCE price index because it is largely based on the CPI.
Read full article...

Read full article...
---

Tuesday, February 27, 2007
Following up on today's lackluster durable goods report, tomorrow's 4th quarter GDP report may be significantly lower than the 3.5% advanced number due to inventory and trade data revisions. The new figure will be closer to my assessment that today's economy remains anemic.
Some market pundits -- myself included -- had predicted the U.S. economy would be in recession by the second half of 2007. It now appears unlikely the economy will reach recessionary levels by the predicted timeline since a recession is defined by two consecutive quarters of negative G.D.P. growth. Despite the lower figure we're likely to see today (which could be revised down to near 2%), it is my view that the economy would have shown as being even weaker if not for two factors: the war in Iraq and increased stimulus from the Fed.
Read full article...

Read full article...
---

Sunday, February 25, 2007
Don't look now, but a new emergent monster is growing, this one a close cousin to the trade gap. We have all been subjected to the steady deterioration in the trade gap, from gargantuan imported product sales from Asian (mostly Chinese, but also Pacific Rim) finished goods, worsened by oil imports (MidEast, Canada, and Mexico).
The source of trade deficits used to be primarily electronics from the Pacific Rim and oil from the MidEast. Now it is a cornucopia of finished products from China like furniture, housewares, furniture, garden items, and a mix of pirated products like car parts.
Read full article...

Read full article...
---

Saturday, February 24, 2007
What are the odds of a recession? According to a recent Fed study, they may be 51.9%. Close enough to 50-50 for government work. We analyze this study, look at a few graphs which show a major disconnect between the housing market and the US manufacturing and services sectors, and then close with some comments on yet another proposed rule change. But let's start with a few housekeeping items.
The latter half of this letter will be written primarily to my colleagues in the financial services area, and to managers, entrepreneurs, and businesses who anticipate the need to raise capital in the future. There are some proposed rule changes at the NASD that will significantly limit the ability of a registered representative to communicate with clients about private offerings, ETFs, venture capital, DPPs, and other offerings. In some cases, it will effectively prohibit communication on the items. This is not just about hedge funds. I think these rule interpretations will have the unintended consequence of the potential to severely impact capital formation in this country. This is under the radar screen of 99% of my colleagues.
Read full article...

Read full article...
---

Saturday, February 24, 2007
As generally expected, German business sentiment slipped a little further in February, with the Ifo research institute's business climate index dipping to 107.0 from 107.9 in January. As Ifo's economists pointed out, some fall was expected after the three percentage point hike in the VAT rate that took effect in January (taking it to 19%), and a slide of less than a point is hardly dramatic. Overall, the level remains well above the long-term average.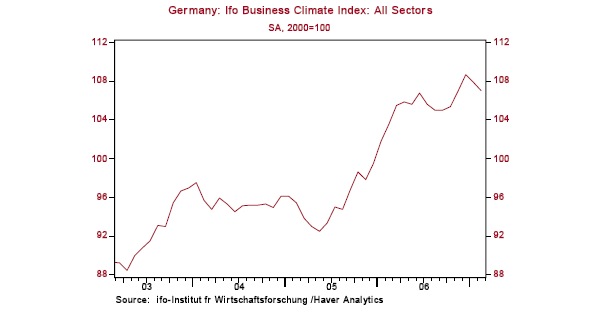 Read full article...

Read full article...
---

Saturday, February 24, 2007
Mardi Gras 2007 just wrapped up. The revelers have gone home. The garbage is being swept up. The Big Easy won't be hosting another one of its famous parties until next year …
But the world's central bankers? They aren't putting away the party beads or the booze. Instead, they're still doling out the easy money and saying, "Laissez les bon temps rouler!" ("Let the good times roll!")
Now, there's nothing inherently wrong with a party. But there's also a time and place for a celebration. And in a moment, I'll tell you how the parade could careen out of control.
Read full article...

Read full article...
---

Saturday, February 24, 2007
With Wednesday's data release that showed that the increase in "core" CPI in January was higher than expected, the price of gold soared by over $20 per ounce to just shy of $680 per ounce, a new nine-month high. As this is the reaction that most market watchers would have expected, it is not surprising that these movements failed to inspire much interest.
After all, gold is an inflation hedge, so any sign that inflation is worsening should be positive for gold prices. However, what is surprising is that this is one of the few recent occasions when the gold market has actually behaved logically in this regard. Could it be that some whiff of sanity has arrived on Wall Street?
Read full article...

Read full article...
---

Friday, February 23, 2007
Numerous international events took place within the last month. The Economic Summit was held in Davos Switzerland. It convened a large collection of world renown economists, corporate chieftains, and some financial market kingpins. The G8 Meeting of finance ministers was held in Germany. Back home, USFed Chairman Bernanke issued a grave warning to the US Congress on the shattered US financial balance sheets. My commentary on money supply explosion comes next.
Lastly, the Chinese trade disputes have taken a big step toward outright trade war and protectionism. Few see how the trade war will affect gold yet. They will soon enough. Restricted trade flow always results in higher prices. It is always accompanied by a scramble for resources in today's context. This trade war will include a massive bidding war and staggering battles to build stockpiles of all critical commodities.
Read full article...

Read full article...
---

Friday, February 23, 2007
This week's data on the sagging real estate market leaves no doubt that the housing bubble is quickly crashing to earth and that hard times are on the way. "The slump in home prices from the end of 2005 to the end of 2006 was the biggest year over year drop since the National Association of Realtors started keeping track in 1982." (New York Times) The Commerce Dept announced that the construction of new homes fell in January by a whopping 14.3%. Prices fell in half of the nation's major markets and "existing home sales declined in 40 states". Arizona, Florida, California, and Virginia have seen precipitous drops in sales.
The Commerce Department also reported that "the number of vacant homes increased by 34% in 2006 to 2.1 million at the end of the year, nearly double the long-term vacancy rate." (Marketwatch)
Read full article...

Read full article...
---

Thursday, February 22, 2007
This is the second article in a series of three papers, which collectively comprise the complete rejoinder to Mr. Mohamed El-Erian's article: Complex Finance and the Brave New World Economy .
The same format used in the first paper will be utilized again. The article will be broken down into paragraphs, followed by a synopsis of the main points of each paragraph, and then comments. This focus on each individual paragraph separately, facilitates an easier understanding and discussion of the complex issues involved.
Once again I would like to emphasize that this rejoinder is to what was said - not to who said it. Mr. El-Erian is a great scholar recognized and respected around the world. This is not personal, it is simply business.
Read full article...

Read full article...
---

Saturday, February 17, 2007
I have often written about the high probability of a recession following an inverted yield curve (where short-term rates are higher than long-term rates), based upon research which suggests the yield curve is our most reliable indicator of future recessions.
I am often asked whether a yield curve causes a recession. The (very) short answer is no. But then what is the mechanism that makes it so reliable? Is it different this time? How can we believe that the economy has a few bumps in its future when things are just so darn good? We ponder these questions in today's letter, as well as peruse the "shocking" housing data released this morning, and look at a very interesting chart on gold.
Read full article...

Read full article...
---

Friday, February 16, 2007
On Tuesday of this week we learned that in 2006 Americans racked up a record $763.6 Billion trade deficit, and that two Australian mining firms, Rio Tinto and BHP Billiton, were each contemplating $40 billion bids for U.S. aluminum giant Alcoa. Not only did Wall Street and the media fail to grasp the negative significance of each story, but they also failed to see the strong connection between the two.
Read full article...

Read full article...
---