Analysis Topic: Commodity Markets - Metals, Softs & Oils
The analysis published under this topic are as follows.

Saturday, January 04, 2014
China represents the East, as its insatiable demand for buying physical gold continues unabated, while in the West, the elite's central banks have pretty much depleted their physical holdings. In the war for gold, both are still winning, but for vastly different reasons.

China and every other BRICS nation importing gold have been doing so at cheaper and cheaper price levels, as the Western central bankers have been conducting a clearance sale. Even the fixtures are being sold, like JP Morgan's fire sale of 1 Chase Plaza for $750 million, about half of its value. The building also happens to house the world's largest gold vault, and it also located across the street from the Federal Reserve gold vault. This gives China a "two-fer.". Now it can store the gold in Manhattan and save shipping costs, and should the NY central bank have any left, it just gets rolled across the underground tunnel.
Read full article...

Read full article...
---

Saturday, January 04, 2014

There was quiet trading as the northeastern US was digging its way out of Winter Storm Hercules.

Gold and silver have been rallying since the end of the December clamp down, but they most certainly have not yet broken out on the charts.

Read full article...

Read full article...
---

Friday, January 03, 2014

Sooner or Later
The solar photovoltaic industry boom-bust sequence, or cycle, has a special role for many countries and especially China, Germany and Spain who are, or were all serial over-producers of PV modules, as well as big national installers and operators of solar energy. According to US market-tracker NPD Solarbuzz, world demand for solar PV systems rose to a record quarterly rate of 9 million kilowatts (9000 MW or 9 GW) of generating capacity in the July-September quarter of 2013. Major installation programs were under way or continuing in China, Japan, the US, Germany, Italy and some other EU28 countries.
Read full article...

Read full article...
---

Friday, January 03, 2014

As the saying goes; "History often repeats, but is never exactly the same." The same can be said for asset classes, if one understands their long term cycles. Let's examine Gold.
Read full article...

Read full article...
---

Friday, January 03, 2014
Silver is poised for a massive recovery upleg in 2014, a mean reversion from last year's dismal action. The main driver of silver's initial strength will be American futures speculators covering shorts. These bearish bets on silver soared to a bull-record high last month, which will require exceptional buying to unwind. Futures speculators as a herd always bet wrong at major lows, they are a fantastic contrarian indicator.
Because futures trading is such a hyper-leveraged zero-sum game, futures traders have a reputation of being smart and sophisticated. And they are to a great extent, futures are so unforgiving that survival of the fittest rules. Capital naturally flows from the poor traders to the good ones. Nevertheless, within their chests thump the same hopelessly emotional human hearts that are such a liability in the markets.
Read full article...

Read full article...
---

Friday, January 03, 2014
The future price of gold cannot be discussed without considering its implied discount rate expressed through time-preference. This is the relative desire to own goods at an earlier date rather than later. There are several reasons gold is almost certainly more valuable sooner rather than later, including the fact that when someone wants something he naturally wants it now, and there is always the risk that a promise for future delivery will not be kept.
Read full article...

Read full article...
---

Friday, January 03, 2014
Encompassing the year end and its holiday on Wednesday, this week has been notable for precious metals. For gold there have been three important features: firstly, Tuesday saw a powerful one-day reversal, with gold falling $22 before recovering by $32; secondly the $1182 low was first tested six months ago before rallying strongly to $1430, and it looks like gold might be forming a double bottom, the prelude to the next bull leg; and lastly this happened on the last trading day of 2013, which suggests that the fall in price had more to do with window- dressing rather than genuine selling.
Read full article...

Read full article...
---

Friday, January 03, 2014

The last time housing market sentiment and precious metals prices lined up this way, we were on the cusp of massive volatility and collapse. Housing had reached the end of its long great credit driven rope. At the same time, defaults began to create tremors deep below the house of cards. Silver and gold had recently been pummeled in the same not-for-profit manner that has riddled these markets for more than 40 years in the modern era (and perhaps much longer throughout the history of the monetary metals).
Read full article...

Read full article...
---

Friday, January 03, 2014

Currently, commodity price performance has lulled the speculative (and therefore, the mainstream) community into a sense of complacency. The speed with which accidents can happen and induce overall change in sentiment is something which can only be imagined in the context of the flash crashes. Outside of more circuit breakers, the HFT conditions that ultimately led to the May 2010 fat finger flash crash and its reverberating damage have not been resolved.
Read full article...

Read full article...
---

Friday, January 03, 2014

The Gold Universe (shares and gold price) looks like it "may" be about to reverse the bear trend in which it has been trapped for some time. Should this happen, the evidence suggests that fear for the integrity of fiat currency denominated capital markets rather than fear of inflation will be the ultimate cause. (Brian Bloom)
Read full article...

Read full article...
---

Friday, January 03, 2014

In early November we turned bearish on the precious metals with the expectation that the sector was about to begin a final plunge that would lead to a V shaped bottom. In our last editorial, we asserted that the bear market was in its final throes. Interestingly, the plunge in precious metals stocks may have ended in early December. Over the past several weeks the gold and silver stocks failed to break lower despite the negative sentiment and the prevalence of tax loss selling. While we aren't sure if Gold has bottomed, we think odds are strong that the stocks have bottomed.
Read full article...

Read full article...
---

Thursday, January 02, 2014

If you're like me, you've bought gold due to the money printing policies of most developed countries and the effect those policies will have on the future purchasing power of our paper money. Probably also because there's no viable way for governments to escape the consequences of all the debt they've piled up. And maybe because politicians can't be trusted to formulate a realistic strategy to avoid any number of monetary, fiscal, or economic crises going forward.
These are valid, core reasons to hold gold in a portfolio at this point in time. But a new trend is under way, and someday soon it will be just as much a driving force for gold prices as anything else: a good old-fashioned supply crunch.
Read full article...

Read full article...
---

Thursday, January 02, 2014

There are two types of gold investors: those trying to make money on short-term market timing and those looking for long-term asset preservation. It was the fear-driven trading of the former that helped gold break $1900 in 2011, and for good reason - stormy markets steer investors to safe havens.
But gold's fortune has shifted in the past two years, and finishing 2013 down 28% seems to have sealed its fate - at least in the eyes of the short-term speculators. In reality, the same forces that are stabilizing stocks and suppressing gold are also the fundamental reasons long-term investors have been buying gold since the turn of the new millennium. The so-called recovery we're now experiencing is just a lull in a storm that hasn't yet abated.
Read full article...

Read full article...
---

Thursday, January 02, 2014

The Internet has been spotty, the phones are out, and the only people who can fix it are "off island" for the holidays.
Welcome to the Bahamas.
Of course, Marina and I can hardly complain. The temperature is in the low 80s, the rain falls after dark, and the friends we have built up over more than two decades are here to ring in the New Year.
Read full article...

Read full article...
---

Thursday, January 02, 2014
Srinivasan Rangaraj writes: The weak balance of trade (i.e. imports greatly exceed over exports) terribly pushed down the value of the rupee against the dollar on 28th August 2013. That is to say the rupee hit 68.85 against the greenback.
India faced an all time high of 4.8 percent deficit in its current account (balance of trade) during the previous fiscal.
Read full article...

Read full article...
---

Thursday, January 02, 2014

No nightly raid so far tonight Wednesday Jan first.
MACD line have surpassed ZERO which denotes Uptrend, Stoch RSI & Slow Stoch are Consolidating and the On Balance Volume is more than Positive
Read full article...

Read full article...
---

Thursday, January 02, 2014
This is an update from the last report, the ideas still appear to be working so little has changed from the last report, and many stocks appear to still need a bit more downside.
I will keep it brief as usual and let the charts explain the ideas, with a little commentary.
The big theme going into 2014 is to be looking for an intermediate low on many Gold stocks, both Gold and Gold stocks in my opinion are much closer to a substantial low and one that traders can look to trade, than more downside, many of the Gold stocks have been completely destroyed, so I suspect we have limited downside based on the patterns and the potential for some decent upside moves. Although we will need to see Gold put in a low and finish a suspected 5 wave decline from the 2011 high, Gold currently appears to be in wave [5], so a target of 1150-1180.
Read full article...

Read full article...
---

Wednesday, January 01, 2014

Gold's been frustrating, to say the least. Plus, its characteristics changed in September.
Weak Signs
Gold failed to rise during its best seasonal time, and when the dollar was declining. These factors alone were bearish signs.
Read full article...

Read full article...
---

Wednesday, January 01, 2014

The drain of gold from the Western ETFs and Funds is apparent. About 942 net tonnes have been removed. This compares to the 856 tonnes that had been removed as of mid-December. That is quite a bit of bullion moving out in just a few weeks.

But even more notably, this is in sharp contrast to silver, which has had about 992 net tonnes added. On a percentage basis silver has had a worse price performance this year compared to gold, so ascribing this to investor preference seems a bit thin.
Read full article...

Read full article...
Note:

This is certainly an interesting phenomenon. It will be worth remembering I suspect.

There seems to be little question that the gold market is being manipulated by some big players. And there is certainly quite a bit of precedent for this manipulation. The bigger questions are the motives, and the course of the endgame, this time. All manipulations end, eventually.




As an aside, I would like to address a recurring pet peeve of mine. The financial spokesmodels will often look at the drawdowns in the GLD inventory and say, 'investors were dumping gold today.'

Where were they dumping it, into the ocean?




All this gold, that no one seemingly wants, and yet the New York Fed cannot find enough bullion to return Germany's gold, and for seven years. What about the gold they hold that no one has yet asked about?

No, the gold has been moving from the custody of GLD as Authorized Participants, aka the usual suspects, redeem bullion from the ETF, and send it elsewhere.




Where does this all lead? Follow the yellow brick road, or more appropriately, the river of gold. Judging from the overall import and export numbers, it is quite the golden river, flowing from west to east.




It is caught in the tide of history, as are we all.




These figures are from 12/31/2012 through 12/30/2013 and are courtesy of Nick Laird at Sharelynx.com.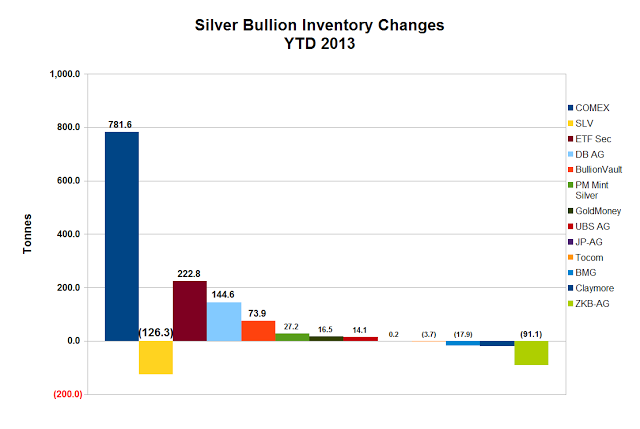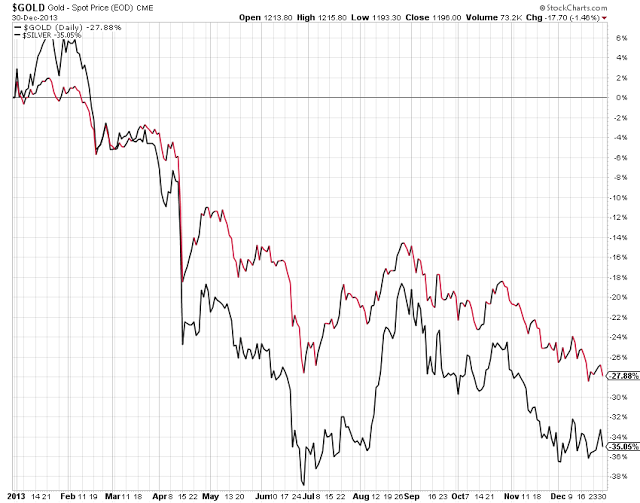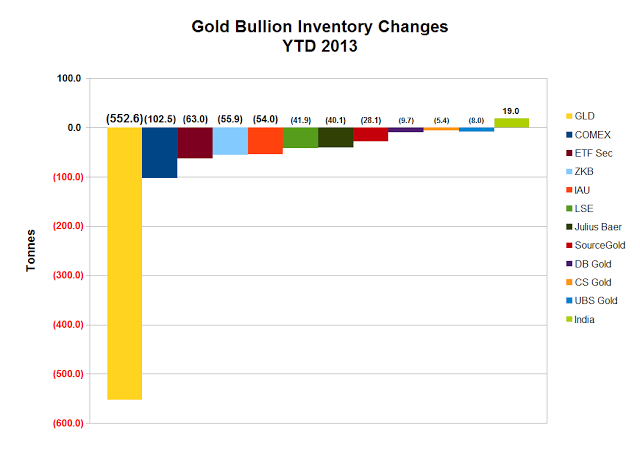 By Jesse


http://jessescrossroadscafe.blogspot.com




Welcome to Jesse's Café Américain - These are personal observations about the economy and the markets. In plewis




roviding information, we hope this allows you to make your own decisions in an informed manner, even if it is from learning by our mistakes, which are many.




© 2013 Copyright Jesse's Café Américain - All Rights Reserved




Disclaimer: The above is a matter of opinion provided for general information purposes only and is not intended as investment advice. Information and analysis above are derived from sources and utilising methods believed to be reliable, but we cannot accept responsibility for any losses you may incur as a result of this analysis. Individuals should consult with their personal financial advisors.




---

Tuesday, December 31, 2013

Now the New Year reviving old desires The thoughtful Soul to Solitude retires" Rubaiyat of Omar Khayyam
Yes folks, it's that time of year again; but unlike old Khayyam who reflected bucolically on the continuing availability of wine, we must turn our thoughts to the dangers and opportunities of the coming year. They are considerable and multi-faceted, but instead of being drawn into the futility of making forecasts I will only offer readers the barest of basics and focus on the corruption of currencies. My conclusion is the overwhelming danger is of currency destruction and that gold is central to their downfall.
Read full article...

Read full article...
---