Analysis Topic: Commodity Markets - Metals, Softs & Oils
The analysis published under this topic are as follows.

Tuesday, May 08, 2007
During the uranium bull markets of the 1950s and the 1970s, it was the United States Government's policies which stimulated uranium production. Both actions were followed by multi-year rallies and brought about then-historical uranium price peaks. Each of the previous two bull markets ended when the federal government changed the existing policy.
Read full article...

Read full article...
---

Monday, May 07, 2007
Gold gained $7.90 (1.16%) for the week, closing at $689.70. It was gold's highest close in 8 weeks. Its intraday high for the week was $693.20, and its intraday low was $670.00.
Below is gold's daily chart, which shows two support lines - the first is closest to the present price, and the second is further below.
Over the short term we are of the opinion that the first support line holding is the most probable scenario. If it holds then a test of the highs would be in order.
Read full article...

Read full article...
---

Monday, May 07, 2007
Joe Nicholson writes :
"Not until Thursdays' productivity report is there a significant chance of domestic economics driving a rally in metals… The path upward has been reopened for gold and silver to drift higher towards a retest of the recent highs, which will provide significant resistance. Just as many speculative traders go long, the threat is that a failure from the $700 area would either appear to be a double top or be labeled a corrective move up before a new impulsive wave down."
~
Precious Points: Why Not Gold?
, April 28, 2007
Read full article...

Read full article...
---

Monday, May 07, 2007
Gold just can't seem to make up its mind where it wants to go. I'll tell it – GO HIGHER – but will it listen?
GOLD
Since last showing the long term P&F chart in the 13 April 2007 commentary nothing has changed. No new X to suggest a further advance and no O s to indicate a reversal of direction. This either shows that from a long term perspective gold has reached somewhat of a stalemate or that the latest P&F unit criteria was too large. With $15 units and a 2 unit reversal criteria gold has a $45 range within which to move without affecting the P&F . This is what it has been doing for the past three weeks now. I don't expect this stalemate to last too much longer, but who knows?
Read full article...

Read full article...
---

Friday, May 04, 2007
In the last couple of months a great deal of emphasis has been placed on Central Bank sales. These have been heavy and along with diminished E.T.F. purchases and even net sales, have held the gold price back. But a major point has been overlooked in these commentaries. How long can they last?
The amount of sales per year is not the sole limitation on these sales, but the announced total sales by each individual Central Bank is the defined limit. Our Table below highlights the situation entirely.
Read full article...

Read full article...
---

Friday, May 04, 2007
All the conditions were there, a euro currency breakout, a British sterling currency breakout, and pronounced USDollar weakness. The sterling exchange rate even hit $2.00 to capture a tremendous amount of attention. The denials streamed in on how the weaker USDollar is not such a big deal, which always serves as a confirmation of a dire situation.
Imagine a harlot on a London Piccadilly Square citing her extra 30 pounds around the haunches, her heavy paint to cover remnants of faded femininity, the complexion lost long ago, and her deep whisky voice, as she actually claims she still possesses her intense sexual spark. The crippled USDollar cannot buck the passage of time and inexorable destruction through unfettered monetary inflation abuse and colossal irresponsibility.
Read full article...

Read full article...
---

Friday, May 04, 2007
Adam Hamilton writes : As we continue our fascinating journeys of discovery as students of the markets, we do a lot of charting work at Zeal. Recently a chart that I hadn't given much thought to for the better part of 8 months caught my attention again. It was a HUI/Gold Ratio chart, also known as HGR in this essay.
The HUI/Gold Ratio is as simple as it sounds, it is calculated by merely dividing the daily close of the HUI unhedged gold-stock index by the daily close in the price of gold. When this resulting ratio is graphed over time, it vividly illustrates the ever-shifting relative strength of the gold stocks versus gold. As their bulls mature, one is stronger and then the other, back and forth. They are engaging in a great secular tug-o-war.
Read full article...

Read full article...
---

Wednesday, May 02, 2007
You wouldn't know it by looking at the latest headlines and earnings announcements, but our old friend of DDRDGOLD (formerly Durban Roodepoort Deep) has been looking good from a relative strength standpoint. Not only that, but DROOY made it past its latest 13-week quarterly cycle bottom without taking so much as a minor hit. Will miracles never cease!
Read full article...

Read full article...
---

Wednesday, May 02, 2007
Sean Brodrick writes: My wife and kids are so excited about the new Pirates of the Caribbean movie coming out at the end of this month. My kids like pirates, while I think my wife just likes Johnny Depp!
Of course, I'm most interested in the economics of the real pirates of the Caribbean. I'm talking about more than "pirate gold" — namely, the four S's — silver, smuggling, sugar and slaves.
Read full article...

Read full article...
---

Tuesday, May 01, 2007
While it is next to impossible to pick the exact tops and bottoms, there are some signs we can look for to help us position ourselves to buy into weakness, and do some selling into strength.
Read full article...

Read full article...
---

Tuesday, May 01, 2007
This article is in two parts. The first looks at the decades' long manipulation of the gold price and the second looks at why this will end with gold returning to its monetary role at much higher prices.
When coming off the Gold Standard it was found that Britain could not cover its gold obligations, despite its own major source of new gold in South Africa. The paper it issued was far in excess of its gold's ability to cover its promises. This was made so clear, simply by the amount of gold it held. Britain's behavior in those days set the trend for subsequent monetary duplicity until now.
Read full article...

Read full article...
---

Sunday, April 29, 2007
More than 66 percent believed the uranium price would go higher, but less than 7 percent said they would trade uranium futures contracts over the next twelve months. More than 40 percent of our readers voted that those most likely to benefit from uranium futures trading would be current and near-term uranium mining companies.
Read full article...

Read full article...
---

Sunday, April 29, 2007
What does growing corn and other crops have anything to do with natural gas? It takes about 33,000 cubic feet of natural gas to produce one ton of nitrogen fertilizer. About 96 percent of the corn planted in the United States depends on fertilizers, such as Anhydrous Ammonia (NH3), 28pct-Liquid Nitrogen, Urea and Ammonium Sulfate.
Fertilizers consume more than three percent of total U.S. natural gas use. "Farming looks mighty easy when your plow is a pencil and you're a thousand miles from the cornfield." – former U.S. President Dwight Eisenhower.
Read full article...

Read full article...
---

Sunday, April 29, 2007
Time to start wondering if this is the start of a new bear or just a normal correction after a several week advance. There are analysts on both sides.
GOLD : LONG TERM
That Merv's Composite Index of Precious Metals Indices shown last week must be on to something. The initial reaction from a previous high last week, making a potential double top, accelerated this week. It's still in a "no panic yet" zone but another week or two of this kind of action and who knows?
Read full article...

Read full article...
---

Saturday, April 28, 2007
"Despite a minor struggle last week, the trend continues to be up until it's not. Weaker consumer confidence and existing home data could be the start of that reversal." ~ Precious Points: Sailing the Seas of Liquidity , April 21, 2007
The dollar is sharply lower for April, and stocks are up largely on that fact, but precious metals, which would traditionally be the beneficiaries of a sinking dollar, are looking to come out roughly flat. Once again, recovery in the metals from softness earlier in the week was foiled by a Friday rally in the dollar. But the real damage started on Tuesday's economic data.
Read full article...

Read full article...
---

Friday, April 27, 2007
The quick drop in silver this week seemed to have caught a few off guard to the extent that talk of manipulation pervaded the air. However, The Silver Analyst had already suggested a sell off in silver last weekend to subscribers and was not taken by surprise by current events.
However, in the light of that weekend comment about a silver price correction, I was asked a question about whether to sell silver stocks. That is a natural enough question which I answered but which I want to expand on here. If like me you believe we are still in a primary bull market for silver, then you may want to consider one or two matters before churning a stock or bullion position.
Read full article...

Read full article...
---

Friday, April 27, 2007
I've received considerable e-mail from
The Energy Letter
subscribers asking about a rather unusual phenomenon in the crude oil markets today: a massive, unusual divergence between the prices of two of the world's most-popular crude oil benchmarks, Brent and West Texas Intermediate (WTI).
As it turns out, this was a major topic covered in the most-recent issue of my subscription-based newsletter,
The Energy Strategist
(
www.energystrategist.com
). The explanation of this divergence also reveals signs of underlying strength in global oil demand. I've reproduced that analysis below:
Read full article...

Read full article...
---

Friday, April 27, 2007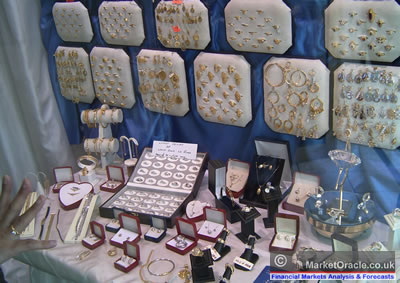 As the United States stock market goes through the 13000 level and India 's Bombay Stock Exchange heads towards 14500 and possibly new highs we ponder the ramifications for demand for gold in India .
Read full article...

Read full article...
---

Friday, April 27, 2007
Just a few years ago, the majority of stock traders were oblivious to the excitement that base metals had to offer commodities stocks. Futures traders hustled and bustled to make a buck in their familiar base metals marketplace, yet not even they were aware of the eruption of capital that would eventually take these markets by storm.
Today the London Metal Exchange (LME), the world's largest non-ferrous metals exchange, manages over $10 billion of traded contracts each day with well over $2 trillion worth turned over annually. These are numbers that the LME says have increased by tenfold in the last 15 or so years. And it expects another double in the next three to five years.
Read full article...

Read full article...
---

Thursday, April 26, 2007
Larry Edelson writes :Gold is within a mere 7% of a new 26-year high, exploding higher by $38 in just the last seven weeks.
The culprit is the growing recognition that the U.S. dollar is weak at the knees and heading down the tubes. That in turn is causing inflation to rev higher … and other natural resources to climb virtually non-stop.
Read full article...

Read full article...
---