Analysis Topic: Commodity Markets - Metals, Softs & Oils
The analysis published under this topic are as follows.

Sunday, April 15, 2007
Here are the latest numbers on silver as of this weekend with changes on the week in parentheses (acronyms are explained at bottom):
London Silver Fix Price:
$13.88
(+$0.30 on week)
NYMEX Spot Price:
$14.01
(+$0.33)
RSI:
64.88
(+5.76) (
70 overbought/30 oversold - short term top-bottom indicator
)
RMAR:
1.02
(+0.01) (
1.30 overbought - monthly to yearly top indicator
)
NYMEX SLI: 1.51 (-0.01) (1.80 overbought
- multi-year top indicator
)
Read full article...

Read full article...
---

Sunday, April 15, 2007
A couple of ups and downs during the week but mostly ups. Are we heading for new highs ahead?
GOLD : LONG TERM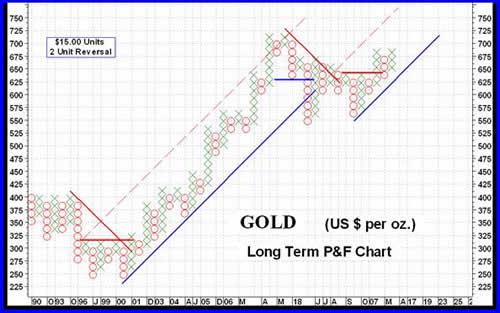 Read full article...

Read full article...
---

Sunday, April 15, 2007
Joe Nicholson writes "Whether the Federal Reserve tightens incrementally to look tough on inflation for which it is almost entirely responsible, or whether it makes a small cut to support a busted housing market for which it is entirely responsible, precious metals are poised to be the long term beneficiaries of either policy choice."
~ Precious Points: All I Really Need to Know About the Economy I Learned in Kindergarten , April 01, 2007
The last few updates essentially took the position that the short term fundamental outlook was muddled, but that, nonetheless, precious metals stood to benefit in any likely event. Despite the ebb and flow of rate cute expectations, gold and silver (and platinum, too!) indeed extended their rallies over the past two weeks on steady declines in the dollar and persistent inflation data. An 11.9% increase in M2 over the last six weeks probably hasn't hurt either.
Read full article...

Read full article...
---

Sunday, April 15, 2007
According to Friday's Nuclear Market Review (NMR), many market participants were left stunned by the recent record jump in the weekly spot uranium price. The market has increasingly diverged between those who have U3O8 and those without. Utilities with existing supply contracts "are heaving a sigh of relief," NMR editor Treva Klingbiel wrote. And those trying to find uranium in today's climate "are forced to face the reality of a seller's market," she said.
Is there pity for one market participant, who is now scrambling for 'very near term delivery' of nearly 500 thousand pounds U3O8? Probably not. This buyer must compete with 7 others hoping to secure about 3.2 million pounds of U3O8 equivalent.
Read full article...

Read full article...
---

Friday, April 13, 2007
This piece is written on the base provided by GFMS, as always, a most competent gold survey of what happened in the gold market last year . Their conclusions highlight the evolution of the gold market over the last 7 years, since the Washington Agreement was signed in 1999.
At that time in an environment of a gold market clouded by the constant threat of Central Bank sales, the treatment of the metal as a commodity and the accelerated gold production fuelled by the hedging of future production at prices persistently higher than those achieved when a new mine came into production.
Read full article...

Read full article...
---

Friday, April 13, 2007
Investors are moving in on BIZO as acquisition completes...
"Shares climbed 110% yesterday and 14% today. Watch for more news tomorrow and get ahead of this new campaign..."
Or rather, that's what the latest batch of junk-and-pump emails to hit our servers here at BullionVault would have you believe.
Ramping stocks is illegal, of course. Buying into the hype is stupid. Getting one of the world's major news organizations to do both for you at once...well, perhaps that's genius.
Read full article...

Read full article...
---

Friday, April 13, 2007
Until the previous uranium cycle ended in the 1980s, Juniper Ridge had reportedly been the site of 12 small open-pit uranium mines. Many in the industry had called it the 'best uranium discovery in southern Wyoming.'
In yesterday's conversation with Dr. Robert Rich, we determined he had the credentials and industry knowledge to provide Yellowcake Mining (YCKM) with credibility in the uranium space. But, what about the geology? Many juniors have skated onto the radar by using a 'big name' to attract investors. Too often, the property's geology is lacking the factors which would lead to actual uranium mining. Often, the industry-celebrity name is barely familiar with the company's property.
Read full article...

Read full article...
---

Thursday, April 12, 2007
Soaring yellowcake prices have accelerated a greater number of uranium juniors rolling off the assembly line. As fast as stock promoters can revive old shells, joint venture a more serious uranium company's castaway property into the re-named shell, and then wheel a former 'big name' out of retirement (or a nursing home), the company will announce they are in the 'hunt' for uranium.
Nearly all are mining the stock market – that means you, specifically the investor. Very few, probably less than 10 percent, have any realistic chance of ever putting a shovel to the ground and coming up with uranium ore. Fewer still are likely to intersect sufficiently economic delineation holes which might someday become a uranium mine.
Read full article...

Read full article...
---

Wednesday, April 11, 2007
From the correction low in early October 2006, gold has shown increasing technical strength as each new 13-week trading cycle unfolds and lifts the metal higher. This sequence of improving prices gives a good indication of expanding strength and also helps forecast the movement of this precious metal over the next few months. With a new 13-week trading cycle developing in the first half of April (see the lower portion of Chart 1), a price peak can be anticipated mid-point (second half of May) at a level of near $720. The next trough should form in late June.
Read full article...

Read full article...
---

Wednesday, April 11, 2007
Institutions and investors are climbing aboard as greater interest emerges in molybdenum. The silvery white metal adds anti-corrosive properties to everything from pipelines and power plants to desalination plants, automotive parts and air pollution systems. Find out if the project has permits before jumping into the moly mania. We interviewed Adanac Molybdenum executive chairman Larry Reaugh about the dozens of junior resource companies, which now proclaim they are part of the Molybdenum Bull Market. His company appears as a potential molybdenum producer on the horizon.
Read full article...

Read full article...
---

Wednesday, April 11, 2007
Sean Brodrick writes :Boy, I sure hope you're holding some uranium investments … because at the latest auction for the white-hot metal, the spot price of uranium oxide (U3O8) soared $18 to $113 per pound!
That's a 19% rise in just one week. According to Nuclear Market Review , it's the largest single weekly price increase since uranium has been tracked!
And you know what?
You ain't seen nuthin' yet!
Read full article...

Read full article...
---

Tuesday, April 10, 2007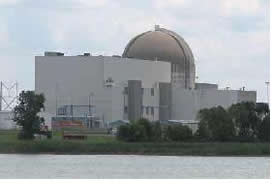 Molybdenum plays a more vital role in the global nuclear renaissance than you might suspect. Without the silvery white metal, the world's energy infrastructure would somewhat suffer. But, nuclear power plants would be set back at least two decades. The new high performance stainless steels (HPSS) contain as much as 7.5 percent molybdenum and can add more than three times the life to the world's aging nuclear fleet condenser tubes.
Read full article...

Read full article...
---

Monday, April 09, 2007
Gold
Gold put in another good week closing up $10.40 to $679.40 (+1.55%). This was gold's highest weekly close in 6 weeks, and was the daily high close for the week as well.
Gold's next target is the Feb. high of $686.70 on a closing basis and $692.50 on an intra-day basis. From there the next target is the multi-year high of May 2006 at $730.40 (intra-day).
Read full article...

Read full article...
---

Monday, April 09, 2007
All is not well in the oil market. Not simply because of the demand supply pressures.
Oil supplies, to a large enough extent to exert overwhelming pressure on the oil price, reside in nations that are not only involved in conflict within themselves over their own branches of Islam, but in nations that are thoroughly disposed to loathe the West, particularly the U.S. of A.
Now add to that the wealth they themselves have in their pockets, which is sufficient to influence the flow of the U.S.$ market to its detriment, a market that is already under pressure from an over issuance of the currency to support the bleeding Trade deficit now at destructive proportions, and the potentially overwhelming surpluses in the hands of all the nations of the world.
Read full article...

Read full article...
---

Monday, April 09, 2007
Our interview with Glenn Catchpole of Uranerz Energy explains what investors should know about water's role in ISR uranium mining. Companies with an ISR project may disappoint shareholders because of the water location, or lack of water, in relation tothe ore body.
As part of our efforts to better educate not only uranium stock analysts and investors, but also the media and environmental groups, we have expanded upon last year's introduction to In Situ Recovery uranium mining with our Advanced ISR Series. Water plays an integral role for In Situ Recovery (ISR) uranium mining.
If the water is not in the right place, ISR mining can not take place. A company's 'pounds in the ground' are nearly worthless or may have to be extracted through other means.

Read full article...

Read full article...
---

Sunday, April 08, 2007
Where's the Beef?? It Better be in Your Freezer - Several different things I want to address first before getting to analysis of the HUI. The first one has to do with meat. The governments do not include the price of food or energy in the core rate of inflation (soon they will be including those that lie in graveyards into their index to further "average" the price down I am sure of it) so everything that you or I have to buy in the grocery store no matter how much costs rise is not "their definition of inflation". This is the government's way of hiding the volumes of money being created out of thin air.
The coming of Peak Oil is causing a movement in the US to produce ethanol in order to provide an alternate fuel source. The big corporations are pushing for corn because it is big money. Use of straw grass, sugar beets etc. is far more efficient in the energy balance of the production equation.
Read full article...

Read full article...
---

Sunday, April 08, 2007
Petroleum prices have started racing to $70 a barrel after staying below $60 for the better part of the winter, now coming to an end around the world. What does this portend? Does it signal that the good times are over and recession is about to be triggered in America and a number of advanced countries? The housing boom in the US is beginning to bust and a crisis is looming on the horizon. This has already created a degree of concern, if not alarm, around the world, including India.
How does it affect India and the rest of the world? Because the US dollar value is being eroded and the rupee, yen, euro, Chinese and several other currencies are being valued upwards, there is an implied cushioning of the high petroleum prices, but exporters are losers in cheaper dollars as they earn fewer rupees. The worst affected are the outsourcing companies engaged in providing information technology through service centers as well as call centers, which cover a wide spectrum of the industry.
Read full article...

Read full article...
---

Wednesday, April 04, 2007
There is no shortage of commentary in financial newspapers, hemming and hawing over such matters as GDP growth, or the CPI data, or even the same store sales of major retailers. The fact of the matter is that all such releases are virtually worthless since their unit of measure being reported is in a fluctuating measure that is constantly changing – the US dollar; (or any other paper currency for that matter).
It is akin to weighing yourself on a bathroom scale but allowing the amount of ounces in a pound to constantly fluctuate. What good would that kind of data be to anyone? Yet this is precisely what analysts and commentators debate with constantly in the financial press and on stock market shows such as CNBC.
Read full article...

Read full article...
---

Wednesday, April 04, 2007
Sean Brodrick writes : If you knew about an investment that, by conservative estimates, would increase in value 47% in the next 18 months, would you buy it?
Well, today I want to tell you about such an investment — uranium. Heck, just a few months ago, I said uranium would hit $100 per pound by the end of this year. It looks ready to hit that target this month !
In just the past year, the white-hot metal has surged 137% to $95 per pound. That's far beyond the expectations of most market analysts. So now they're rolling out new estimates — higher and higher.
Read full article...

Read full article...
---

Tuesday, April 03, 2007
AS THE TREND for spot gold prices to move higher rolls on, the big gold mining companies keep racing to re-stock their shrinking reserves.
Three of the larger gold miners just said they're going to spend record sums trying to find new gold-in-the-ground. Trying to pick the winners – and selecting junior miners on the brink of receiving a hot takeover bid – might just pay off handsomely.
But don't neglect the bigger picture as you chase these short-term M&A profits. "Route One" to growing proven and probable reserves in the ground is more than likely to eat up total exploration budgets in 2008 and beyond.
Read full article...

Read full article...
---