Analysis Topic: Interest Rates and the Bond Market
The analysis published under this topic are as follows.

Tuesday, February 05, 2008

"...Rising inflation in the cost of living didn't stop the Old Lady cutting interest rates in 2001, 2003 or 2005. Why change now...?"
WILL THE BANK of ENGLAND cut UK interest rates this Thursday?
Read full article...

Read full article...
---

Monday, February 04, 2008

Mike Larson writes: The Federal Reserve stepped up this week and gave Wall Street what it wanted — another half-percentage point cut in interest rates. That brings the federal funds rate down to 3%, the lowest level since the middle of 2005.
Today I want to take a closer look at the Fed's action, to find out what it will — and won't — do. Let's start with ...
Read full article...

Read full article...
---

Thursday, January 31, 2008

A little more than a week ago a lone trader was able to rack up 4.9 billion euros in losses from trading in 'plain vanilla' DAX futures. At the time of the discovery by SocGen officials, the losses were less than 2 billion euros. When the futures were sold off, the market crashed setting off a worldwide chain reaction which climaxed in the Federal Reserve cutting interest rates by 75 basis points.
Read full article...

Read full article...
---

Wednesday, January 30, 2008

Two Billionaires Describe Our Outlook
- Financial speculator and billionaire, George Soros states in
his FT.com commentary
: "the current crisis is the culmination of a super-boom that has lasted for more than 60 years." In June's
Higher Rates Reflect Default Risk
we described the end of the last credit boom: "In 1928, the U.S. Treasury Bond similarly broke out of the channel and rose to a higher yield. This coincided with the end of 'easy' money which forced the deleveraging of the economy and concluded with the financial crisis of 1929-1932." Compare the two Treasury Bond Yield charts below. In 2005-2006 higher bond rates "broke out of the channel" and inflicted damage on the housing market. This marked "the end of 'easy' money." Similarly since 2006, there has also been a flight to quality.
Read full article...

Read full article...
---

Wednesday, January 30, 2008

"The current crisis is not only the bust that follows the housing boom, it's basically the end of a 60-year period of continuing credit expansion based on the dollar as the reserve currency. Now the rest of the world is increasingly unwilling to accumulate dollars.'' ' George Soros, World Economic Forum in Davos, Switzerland. `
Global market turmoil continued into a second week as stock markets in Asia and Europe took another tumble on Monday on growing fears of a recession in the United States. China's benchmark index plummeted 7.2% to its lowest point in six months, while Japan's Nikkei index slipped another 4.3%. Equities markets across Asia recorded similar results and, by midmorning in Europe, all three major indexes---the UK FTSE "Footsie", France's CAC 40, and the German DAX---were all recording heavy losses. It's now clear that Fed Chairman Bernanke's 'surprise' announcement of a 75 basis points cut to the Fed Funds rate last Tuesday has neither stabilized the markets nor restored confidence among jittery investors.
Read full article...

Read full article...
---

Saturday, January 26, 2008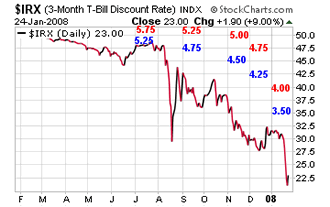 I have said multiple times in the past that the Federal Reserve doesn't lead with interest rate cuts. It follows. The proof is in the chart to the left, which compares the 3-month Treasury Bill Discount Rate to the Federal Funds Rate (blue) and the Fed Discount Rate (red). What this indicates is that there is more room to cut interest rates next week.
But this chart has a darker message , too. The flight to safety in short-term money market funds is a leading economic indicator of a recession.
Read full article...

Read full article...
---

Friday, January 25, 2008

I. Today saw a rally came from the Federal Reserve cutting the central bank interest by 0.75%.
My investment motto is: "In a bull market be a bull, and in a bear market be a bear: in a bull market, one buy on dips, and in a bear market, one sells pops and rallies". Special thanks to Stockcharts.com for the free us.eage of charts provided herein; all comments are mine, not theirs, or those of any one else.
I recommend that one buy gold as it is in a bull market going 'sooner or later much, much higher'.
Read full article...

Read full article...
---

Friday, January 25, 2008

"...Wouldn't life be much simpler for everyone if the US raised interest rates and didn't spend more than it had overseas...?"
ONE U.S. DOLLAR used to buy nearly four Brazilian Reals at the start of 2003.Today it buys fewer than half as many. Which you might think implies higher travel, energy and food costs to come for US consumers.
Read full article...

Read full article...
---

Thursday, January 24, 2008

Bankers, Wall Street hucksters, financial network commentators, and floating analysts seem to have flunked basic arithmetic in grand fashion. Maybe they only expose the next link in a long chain of deception, their apparent expertise. One hears estimates of $200 billion on total mortgage bond losses from the Secy of Inflation Ben Bernanke. One witnesses the series of bond writedowns by Wall Street banks. One can read of Wall Street economists like Jan Hatzius of Goldman Sachs, who cites $400 billion in potential bond losses, a favorite figure cited by other bankers. One is subjected to press anchors and their simplistic echoes of bond losses. One is endlessly lectured by highbrow analysts of the extent of bond damage. The trouble is, they all cannot do simple arithmetic and observe the billboards on mortgage bond indexes, fully available.
Read full article...

Read full article...
---

Thursday, January 24, 2008

The US Fed's emergency 0.75% interest rate cut to 3.5% following the global stock market plunge on fears of a looming US recession now increases the probability of a near certain cut in UK interest rates at the February MPC Meeting, rather than at the originally forecast March MPC meeting. Whilst the US has made deep cuts in interest rates from a peak of 5.25% to 3.5%, the UK has only cut rates by 0.25% from a peak of 5.75% to 5.50% with the expected February cut to take rates to 5.25%.
Read full article...

Read full article...
---

Thursday, January 10, 2008
The Bank of England held interest rates at 5.50% following Decembers 0.25% cut from 5.75%, with the trend inline with the Market Oracle forecast as of 22nd August 07 for UK interest rates to fall to 5% by September 2008.
Yesterdays news of the continuing deterioration of the UK economy as over indebted consumers cut back on consumption as illustrated by Marks and Spencer's announcement of a drop on Christmas sales and calls by company's chief executive, Sir Stuart Rose, joined in calls for the Bank of England to cut interest rates to stimulate the economy, would have been countered by the increasing inflationary pressures as Gordon Brown seeks to restrain the public sector pay via a three year pay deal. Which is likely to lead to major tensions with the Unions.
Read full article...

Read full article...
---

Friday, December 21, 2007
Reading the Fed's Tea Leaves
The Federal Reserve has indicated they want to be more transparent with the markets, believing that it will be better for all market participants. Before the Federal Open Market Committee (FOMC) meeting on December 11, 2007 several of the members of the Fed spoke before various groups seeking to explain their thoughts about the economy and interest rates. As a result many economists and investors felt the Fed would take the necessary steps to help the U.S. economy avoid a recession by lowering the Fed Funds rate 0.25% to 0.50% and lowering the discount rate at least 0.50% to help provide the liquidity many banks need. Then we learned they only lower the Fed Funds and Discount rate by 0.25%. The U.S. markets fell dramatically.
Read full article...

Read full article...
---

Friday, December 21, 2007

Mike Larson writes: I spend my time analyzing and trading the markets now. But back in college, I double-majored in English and Journalism. So I'm familiar with many of the classics — those great works of literature that still have relevance to current events.
For instance, I can't get Samuel Taylor Coleridge's "Rime of the Ancient Mariner" out of my head. You've probably heard the classic lament:
"Water, water, every where,
And all the boards did shrink;
Water, water, every where,
Nor any drop to drink."
Read full article...

Read full article...
---

Thursday, December 20, 2007
The Lehman 20-Year T-Bond ETF (AMEX: TLT) closed about 80 cents off their earlier highs at 93.87 in what turned out to be a vertical panic-like move, the strength of which certainly surprised me (yesterday afternoon, in particular). The target of 94.00 did not surprise me, just the speed that it was achieved.
Read full article...

Read full article...
---

Thursday, December 20, 2007

Next week may hold some unpleasant surprises – you may profit from an early warning.
YESTERDAY WE LEARNED that the British government's guarantee to bail out Northern Rock's creditors is worth a staggering £100 billion. That's £5,000 [$10,000] per British household. This week the European Central Bank made $500 billion available through money market operations. And only last week $110bn of new money was created by central bank loans with artificially low rates and reduced-quality security. This is money creation on an epic scale.
Read full article...

Read full article...
---

Thursday, December 20, 2007
FTSE 100 index rallied during the day, up more than 60 points at 6347 at 3pm GMT, as the 3 month sterling interbank LIBOR rate fell to 6.14% following continuing concerted central bank intervention that is starting to thaw the frozen credit markets.
Read full article...

Read full article...
---

Wednesday, December 19, 2007
Concerted action by the worlds central banks is beginning to have an impact on the money market interbank rates. This resulted in a a sharp drop today in the Sterling LIBOR rate down from 6.38% last night to 6.20% today. Similar action by the US Fed and ECB has pushed Euro and US Dollar LIBOR rates significantly lower as the graph below demonstrates.
Read full article...

Read full article...
---

Tuesday, December 18, 2007

True leadership may have finally emerged to resolve the subprime crisis, although it was difficult to spot during a tumultuous week at the Federal Reserve (Fed). On Tuesday, December 11, 2007, the Fed cut interest rates by 0.25%. The Dow Jones index, disappointed in what was another effort by the Fed to claim to be both on top of inflation and the crisis in the credit markets, fell about 300 points. Around 6:30pm E.T. that night, 'sources close to the Fed' suggested that banks would be able to borrow money from the Fed directly at rates set through an auction, rather than the discount rate set by the Fed. This was confirmed the next morning at around 8:13 am E.T., minutes before futures trading resumed, together with an announcement that foreign central banks, effective immediately, would be allowed to engage in currency swap agreements with the Fed.
Read full article...

Read full article...
---

Tuesday, December 18, 2007

The Fed is getting ready to auction of $40 billion in repos this week. The stock market acted is if this was a special gift stuffed into its Christmas stocking last week, rebounding after a serious drop in the market the day before. This week in Outside the Box, Dr. John Hussman tells us why the $40 billion is more smoke and mirrors than actual money. It seems they had $39 billion coming due this week anyway. And in a $12.7 trillion dollar banking system it may not make much difference.
This is not a long article, but it is important. You need to understand how the Fed works and when its actions make a difference. Hussman is very good at writing clear, easy-to-understand material on complex subjects.
Read full article...

Read full article...
---

Saturday, December 15, 2007
"... The Dollar's holed up in a hotel shooting neat vodka, whatever its "people" are telling the press..."
IT'S A COLD & BITTER TRUTH that the world's investment markets rarely act as sober as Britney Spears in a new wig.
Read full article...

Read full article...
---