Analysis Topic: Interest Rates and the Bond Market
The analysis published under this topic are as follows.

Tuesday, December 26, 2006
UK Interest rates end 2006 at 5%, up 0.5% on the years low of 4.5%, as the bank of England strives to bring inflation back under control. Though the bank increasingly seems to be fighting a losing battle against a soaring money supply of over 14% ! stoking the fires of inflation as the RPI hits 3.7% and the CPI 2.7% the highest levels since 1993 !
With the economy near full employment, the inflation figures are set to wage costs soaring feeding into a wage price spiral. which is expected to feed through into even higher inflation during 2007. The middle class already are experiencing inflation closer to 6% than the 2.7% that the CPI represents.
Read full article...

Read full article...
---

Sunday, December 17, 2006
The late Nobel Economic laureate Milton Friedman once remarked, "Money is too important to be left to central bankers. You essentially have a group of unelected people who have enormous power to affect the economy. I've always been in favor of replacing the Fed with a laptop computer, to calculate the monetary base and expand it annually, through war, peace, feast and famine by, perhaps, a predictable 2 percent," Friedman said.

Financial chiefs from the Group of 20 industrialized and emerging economies could hardly believe their good fortune, as they huddled behind closed doors on Nov 19th. Central bankers from Great Britain, Canada, France, Germany, Italy, Japan and the United States, and 13 emerging economies, including Australia, Brazil, China, India, Russia and South Korea, implemented a joint strategy six months ago to derail the "Commodity Super Cycle", and they hit pay dirt in the Fall of 2006.
Read full article...

Read full article...
---

Thursday, December 07, 2006
In widely expected interest rates moves, the European Central bank raised interest rates to 3.5% (a 5 year high) and the Bank of England kept rates on hold at 5%.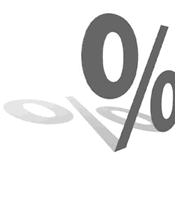 Read full article...

Read full article...
---

Thursday, November 23, 2006
As Japanese growth numbers for 2006 and 2007 have been revised higher to 2.5%. the Japanese central bank is increasingly looking to raise interest rates further from the current 0.25%, after spending many years at 0% (up from 0% in July 06). Interest rate forecasts suggest that rates could rise to as high as 2.5%, which could spell an end to the 'carry trade'.
Read full article...

Read full article...
---

Thursday, November 09, 2006
After the markets digest yesterdays expected rise to 5% (the 2nd rise of 2006). It is highly probable that this is NOT the peak in interest rates, far from it, yesterdays rise confirms that the trend in interest rates is firmly higher, so we ponder when the next rise in interest rates is likely to occur, taking the Base Rate to 5.25%.
The housing market continues to accelerate, with the Halifax reporting yesterday a rise for October of 1.7% ! On top of this consumer price inflation is expected to continue rising from its current rate of 2.4% over the coming months.
Read full article...

Read full article...
---

Tuesday, November 07, 2006
With this Thursdays BoE decision of a rise in interest rates to 5% a near certainty. There are clear signs that rates could carry on rising to much higher levels during 2007, due to rising inflation, fed by strong growth in the UK's Money Supply. The projection of 5.75% was first forecast by the Market Oracle in November 2005, with subsquent economic data confirming the trend in higher interest rates. Inflation as measured by CPI is currently running at 2.4% with RPI at 3.6%, well above the old cap of 3%, with little signs of abating despite the rate rises todate.
The spread between the base rate (4.75%) and RPI (3.6%), is currently at 1.3%, marginally higher than the low set in 2003 of 1.1%, which preceded a rise in interest rates from 3.5% to 4.75%. This took the spread to 2%, since that time, RPI has risen and interest rates have fallen to 4.5%. This puts the UK under similar interest rate hike pressures as during the start of the rate hikes back in 2003 and targets an interest rate rise to 5.75%.
Read full article...

Read full article...
---

Tuesday, October 17, 2006
UK Inflation rose strongly taking the more recognised and reflected rate of price inflation in the UK economy, RPI from 3.4% to 3.6%, despite the recent fall in crude oil prices. The goverments preferred measure dropped as expected from 2.5% to 2.4% as the price of petrol fell by 6.4 pence per litre.
The rise in RPI is further confirmation that a rate rise in November is virtually a done deal, as the decline in the CPI is temporary given the gap now developing between RPI and CPI measures of inflation.
Read full article...

Read full article...
---

Thursday, October 05, 2006
The Bank of England held UK base rates at 4.75% today as expected, whilst the European Central Bank raises to 3.25%.
Read full article...

Read full article...
---

Thursday, September 28, 2006
The Office for National Statistics has made a serious error in its inflation data, which will impact on expectations for further interest rate hikes and pushed the pound sharply lower.
Read full article...

Read full article...
---

Wednesday, September 20, 2006
The U.S. Federal Reserve on Wednesday held its benchmark interest rate steady for a second straight meeting, saying that while inflation risks remain, they should abate as economic growth slows.
The Federal Open Market Committee's decision to hold the overnight federal funds rate target at 5.25 percent -- the level hit in June after 17 straight increases -- was widely expected. But it was not unanimous.
Read full article...

Read full article...
---

Wednesday, September 20, 2006
A further rise in interest rates in November 06, looks highly likely after the Bank of England again raised fears over rising inflation. Minutes from this month's meeting of the Bank's Monetary Policy Committee (MPC) showed that all eight members voted to keep the cost of borrowing on hold at 4.75%. But it also showed that the MPC thought it was right to impose the shock rise from 4.5% in August as inflation was set to stay above its 2% target "for some time". Inflation hit 2.5% in August 06, - its joint-highest level since Labour came to power and the fourth month in a row it was above 2%.
Read full article...

Read full article...
---

Thursday, September 14, 2006
High Street spending rose strongly in August, to 4.3% despite the August rate rise, which strongly increases the likelihood of another rate rise this year.
There are also signs that the china factor is coming to an end i.e. the price deflation that the high street has enjoyed for several years. Interest rates will now likely rise in November 2006 as the pressures on inflation remain in an economy running near full capacity.
Read full article...

Read full article...
---

Friday, August 11, 2006
The interest rate hike by the BOE last month has accelerated the interest rate trend, pushing the 3month rate to over 4.95% ! The trend is likely to continue upwards into the next interest rate rise, probably in October or November 2006, though unlikely to occur in December due to the holiday period.
Read full article...

Read full article...
---

Friday, August 04, 2006
An unexpected quarter point rise in interest rates from 4.5pc to 4.75pc rattled the stock market with retailers, exporters and builders bearing the brunt of investors' concerns.
The rise caught the financial markets off guard leading to a surge in interest rate futures to take into account the 0.25% rise.The FTSE 100 fell by by 93.7 points, or 1.6pc, to 5838.4, while the pound jumped a cent to $1.8885.
The rise is likely to impact the highly leveredged housing sector and lead to a slowdown in the coming months. And future rises are not out of the question, as the BOE tries to reign in inflation as it moves well beyond the Inflation target of 2%.
Read full article...

Read full article...
---

Tuesday, March 07, 2006
It is 4 months since our last analysis that suggested that the interest rate trend is likely to resume upwards, in that time interest rates have moved sideways, but now with the 3 month LIBOR rate rallying to above 4.7% that sideways trend is coming to an end and signaling a resumption of the uptrend towards our target of 5.75% ! Which would roughly equate to a base rate of at least 5.25% !, The time line for this now has to be moved forward by some 4 months and is now pointing to some time in early 2007.
Read full article...

Read full article...
---

Sunday, November 13, 2005
With talk now focusing on when the next cut in interest rates will be, its time to remind readers that the MAIN trend is still definetly still up !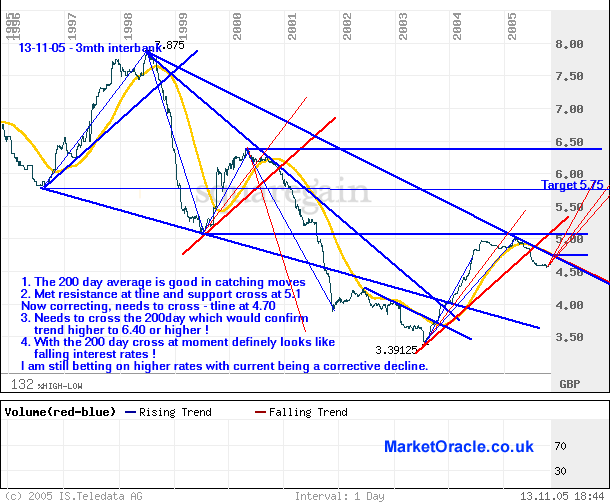 Read full article...

Read full article...
---