Analysis Topic: Stock & Financial Markets
The analysis published under this topic are as follows.

Monday, April 23, 2007
A 3-dimensional approach to technical analysis
Cycles - Breadth - Price projections
"By the Law of Periodical Repetition, everything which has happened once must happen again, and again, and again -- and not capriciously, but at regular periods, and each thing in its own period, not another's, and each obeying its own law... The same Nature which delights in periodical repetition in the sky is the Nature which orders the affairs of the earth. Let us not underrate the value of that hint." -- Mark Twain
Current Position of the Market.
SPX: Long-Term Trend - The 12-year and 10-year cycles are still in their up-phases but their influence will be reduced in the weeks ahead as intermediate and long term cycles bear down into year-end.
Read full article...

Read full article...
---

Monday, April 23, 2007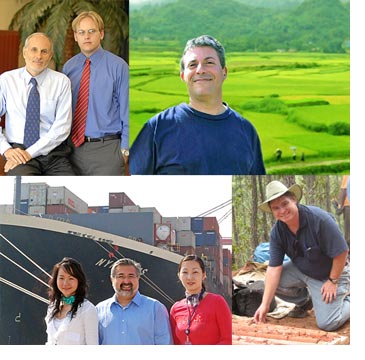 Martin Weiss writes: The U.S. dollar is falling so quickly …
And so many of our favorite investments are moving up so broadly …
I've gathered the wisdom of our entire team this morning to give you a full run-down on the six giants of global profits.
I won't keep you guessing as to who the giants are.
They're China, India, Japan, Brazil, Australia … and Canada.
There is nothing, I repeat nothing, that you do every day that is not connected to, or dependent upon, these six countries.
Read full article...

Read full article...
---

Monday, April 23, 2007
The following represent the Editor of the Market Oracle, Nadeem Walayat's summary forecasts of the most probable outcomes, as derived from technical analysis, intermarket analysis and research of fundementals, much of which are published as in-depth articles on this site. Updates and New forecasts are added on an on-going basis.
Gold

21st Jan 07 - $636 - Gold Bull Market set to resume, targeting a rally to initially $847 and then $900 by the end of this year.

19th April 07 - $688 - A Word of Caution to Gold Bulls, Elliott Wave suggests possible weak 5th Wave Peak, implies sharp sell of on failure to clear the $733 prev peak.
Read full article...

Read full article...
---

Sunday, April 22, 2007
I'm sure by now many traders have noticed what's really been going on. It sure does feel as though the capitulation phase I've been waiting to see may be upon us, as this was a brutal week for anyone stuck in a short position from the February top. Or from any of the inviting diversions along the rally from the March lows.
That's just the market doing what it's done ever since its doors opened – it'll get every bear to cover and stop shorting, while getting the late bulls long, as the train appears to be leaving.
Read full article...

Read full article...
---

Saturday, April 21, 2007
Both the Industrials and the Transports pushed into all time new territory this week. As a result it is indisputable that the advance is still alive. But, I still do not believe that the advance is well. Given the relentless resilience of the market, there are times that even I question the data surrounding the 4-year cycle. However, when I remove the emotion and simply look at the raw data it continues to suggest that there is still an unwinding into the 4-year cycle low somewhere ahead.
Read full article...

Read full article...
---

Saturday, April 21, 2007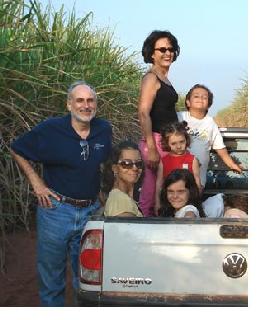 No matter where I am in the world — even while driving our farm's little pick-up in the sugar cane fields of Brazil — I'm always connecting the dots —
To the rising price of sugar …
To the surging demand for cane-based ethanol …
To China's voracious appetite for energy …
To the dramatic growth in China's economy, and …
To the very nice profits average U.S. investors can make in both Brazil and China!
Read full article...

Read full article...
---

Friday, April 20, 2007
Mike Larson writes Picture this: You're a U.K. fund manager sitting in an office tower in the "City," London's equivalent of Wall Street. It's 3:00 p.m. on Friday, another gloomy April afternoon that's not cold enough for snow and not warm enough to signal that summer's right around the corner.
You're sitting in your cube, staring at your portfolio of Dow stocks. You could really use a pint right about now. "Will the weekend ever get started?" you wonder aloud.
Sure, your U.S. stocks have been doing okay lately. But you bought them with British pounds, which keep rising in value relative to the buck. If you tried to cash out right now, your gains would be almost completely wiped out by the lousy exchange rate!
Read full article...

Read full article...
---

Thursday, April 19, 2007
"In a bull market and particularly in booms the public at first makes money which it later loses simply by overstaying the bull market… The big money in booms is always made first by the public-on paper. And it remains on paper. " – Edwin Lef èvre, Reminiscences of a Stock Operator . 1923.
To the investment community the sell-off in February came as a complete surprise. Readers of our report understand what is happening. In our article on October 17 th of last year, titled Credit Extreme Emotion ;
"As a result, financial institutions will come under severe strains as the credit bubble bursts. The rise of mortgage defaults will signal the beginning of this deflationary spiral. Unfortunately, interest rate markets are setting up homeowners for this exact scenario. "
Read full article...

Read full article...
---

Thursday, April 19, 2007
China, Shanghai 180 Update:
Yesterday, we warned our paid subscribers with the following: "Day traders and short term traders should be extra cautious today and tomorrow ." It is now "tomorrow" ... and this morning, the Shanghai 180 fell 6.93% before a small retracement that took it to a 4.25% loss for the day.
If you recall, we posted this expectation last week, warning members that the Bow Tie Pattern was repeating 100%. The exact, first down day should have been Wednesday, and instead it was off by one day. In spite of being 1 day late, we warned that the probability of falling today was extremely high because the Shanghai 180 had a Doji Star on Tuesday, and a Spinning Top on Wednesday ... both were candlesticks that typically precede a downside reversal. *** See the chart below, and the previous postings, including last week's analysis and warning.
Read full article...

Read full article...
---

Thursday, April 19, 2007
With the Asian markets all down heavily last night, and the Yen strengthening again, I thought to talk about another possible Yen carry related market sell off.
China bubble trigger
A month or so ago, Premier Wen of China said that their manufacturing and financial bubbles were unsustainable and out of control. This was in light of recent financial tightening in China, increasing reserve requirements for banks to over 10% now, and raising interest rates moderately. It is important to realize that China is determined to do something about their financial bubbles.
Read full article...

Read full article...
---

Thursday, April 19, 2007
We at Market Oracle have been able to secure
FREE exclusive
access
for all readers of the Market Oracle website to
Elliott Wave.com's
premium Financial Markets Forecasting services without any obligation as of now !.
Read full article...

Read full article...
---

Thursday, April 19, 2007
Larry Edelson writes: Gold is soaring … the price of oil is on fire … virtually every natural resource under the sun is rallying again, just like I told you they would .
And the portfolios in my Real Wealth Report are on fire, too. Year-to-date, our open positions are up more than 10% — in less than four months! I'm about to recommend taking profits on some positions, and then I'm going to issue some new trades.
More on that and the recent action in gold and oil in a few minutes. First, I want to tell you about another commodity that is exploding higher, but that few investors are profiting from. I'm talking about natural rubber .
Read full article...

Read full article...
---

Wednesday, April 18, 2007
One of the most recognised experts in the field of elliott wave theory is Robert Prechter, who's work on understanding and applying elliott wave theory to forecasting of financial markets, now spans more than 30 years.
We at Market Oracle have been able to secure FREE exclusive access for all visitors to the Market Oracle website to Elliott Wave.com's premium Financial Markets Forecasting services without any obligation starting today at 1pm EST.
Read full article...

Read full article...
---

Tuesday, April 17, 2007
Economy
The Reuters/University of Michigan's preliminary index of sentiment declined to an eight-month low of 85.3 in April from 88.4 a month earlier.
Producer prices increased 1% in March. The core rate remained unchanged. The U.S. Trade deficit narrowed to 0.7% in February.
Producer Prices were up 3.2% year over year. March Import Prices were up 2.8% year over year. March's Fiscal Deficit jumped 12.9% to $96.27 billion.
The G7 meet this weekend to determine the course of world affairs. Let's hope they get it right, as it is quite a bit of responsibility to lay on a group of just seven men, but alas that's how it's done. They are sort of a counsel of Elders, if you will. And who is El?
Read full article...

Read full article...
---

Tuesday, April 17, 2007
Tony's busy planning his next trip to China. So we've asked Dan Ascani, Executive Vice President of our separate affiliate, Weiss Capital Management, to give you some new insights into his specialty — ETFs.
Dan knows ETFs like the back of his hand. He is a pioneer in the development of mutual-fund and ETF models. And now he's created what could be the ultimate ETF portfolio. Here's his report …
Read full article...

Read full article...
---

Tuesday, April 17, 2007
Like the Roman god, Janus, the markets are looking both forwards and backwards – hence the reluctance to put on a big show and rally strongly to new highs. Also, a reason for the swoon mid-week as the Fed indicated that they remain concerned about inflation and that rates may still be increased in the future. Many would believe that inflation figures are backward looking and that the Fed should be more concerned with housing and the issues surrounding the sub-prime loan market (a forward looking item), the reported inflation figures from the producers indicated that inflation remains relatively tame. Spurred by a good start to the earnings season, stocks generally rose as investors hoped companies have talked down their earnings to such a low level that even a snake could hurdle "expectations".
Read full article...

Read full article...
---

Tuesday, April 17, 2007
The past five days were bullish, overall, for the stock market. That isn't surprising given the level of bearish sentiment we saw in last week's AAII investor sentiment survey. This week's AAII poll, released Thursday, showed a slight increase in bullish sentiment (41%) over bearish sentiment (38%). That's not enough of a disparity between the bulls and the bears to cause any overt worries in the immediate term, but it's enough to slightly increase our caution.
The still rising dominant internal momentum indicator for the NYSE, the 200-day HILMO index, should act as a strong underlying support for anything unusual that gets thrown at this market in the coming weeks. The interim trend remains bullish.
Read full article...

Read full article...
---

Monday, April 16, 2007
Elliott wave theory in the hands of experienced professionals, has time and again shown itself as an important indicator of future trend, a road map that is constantly adjusted in the light of unfolding price action.
If you have been following the various articles on Elliott Wave theory at the Market Oracle website, you will have experienced the usefulness of elliott wave theory in projecting targets both in terms of price and time with also clear examples of how unfolding price action adjusts the wave count expectations.
In a recent lengthy article (16th April), one of our contributors Joseph Russo illustrated this in his unfolding analysis of Gold over several months, and how at each stage Elliott Wave theory gave important clues in terms of probable price action, as well as how to interpret price action that deviated from the probable road map.
Read full article...

Read full article...
---

Sunday, April 15, 2007
Since I didn't write an update last week, I will go back to the April 1 st update to review where we had left off. In that update I had stated:
"This week, we might have the same situation, but on a smaller degree. Has the market topped out in a second wave retracement on March 23rd, or are we about to set a huge bear trap to finally get that run to new highs that sets up the classic capitulation?

As we've basically nailed these last two swings, we think we have the correct possible patterns and are waiting for a bit more price action to confirm. It might only take another day or two. I believe we will have a decent move within the next 20 points that we are ready to trade."
Read full article...

Read full article...
---

Saturday, April 14, 2007
The good news is-
• The S&P mid cap index (MID) hit an all time high Friday.
• Next week is seasonally one of the strongest weeks of the year.
Short Term
Last Wednesday the MID ended its 2nd consecutive string of 8 consecutive up days for the year. You have to go back to April - June 2004 to find a similar performance. Following the late June 2004 string of 8 consecutive up days the index made an intermediate term high about a month later.
What has been defining this market is a lack of sellers.
Read full article...

Read full article...
---