Analysis Topic: Stock & Financial Markets
The analysis published under this topic are as follows.

Tuesday, May 08, 2007
"...The previous top of 1999-2000 feels more like false memory syndrome than a warning from history..."
GOT TIME for a quick round of Blankety Blank , the classic British gameshow from the '80s?
If you were lucky enough to miss it, just think of America 's Match Game – only with the value of prizes capped by government diktat. (Yes, really...) Then simply write down the word that best completes these well-worn phrases below.
Read full article...

Read full article...
---

Tuesday, May 08, 2007
Martin Weiss writes : This is Martin and team with a blockbuster, 21-page free report, easily one of the most important in the history of our company.
I've just been to the highlands of Brazil. Tony's heading to Asia soon. Larry's just back. Sean's going deep underground into the world's most promising mines.
All of us — Larry, Tony, Sean, Mike and I — have searched the globe and scanned the decades.
We've looked at every economic boom from the past century.
We've added them together.
Read full article...

Read full article...
---

Monday, May 07, 2007
Born in Parma, Italy, Ponzi immigrated to America in 1903 and was quick to show his entrepreneurial flair.
In 1908 he was imprisoned for two years in a Canadian prison on forgery charges relating to a fraudulent high-interest scheme. Shortly after his release from jail Ponzi was once again arrested for smuggling illegal Italian immigrants from Canada into the U.S. He spent a further two years in an Atlanta, Georgia prison cell.
Read full article...

Read full article...
---

Monday, May 07, 2007
What the first thing you think of when you hear "tick, tick, tick"?
It could be a clock, but if you watched enough action films, it is usually a time bomb.
China tick #1: UBS's economist, Jonathan Anderson, was stunned when he calculated that China's Currency Reserves went up 1 million dollars a minute during the entire first quarter this year. " This is more than just a jump ," Anderson said in a report released yesterday. " The magnitude and the abruptness of this acceleration are simply stunning ."
Read full article...

Read full article...
---

Monday, May 07, 2007
The Pictures below display the fractal equivalence between SPX 2000 - NIKKEY 1990 Needless to say, it depicts uneasy picture for anybody who really cares for USA and it's citizens and their future. Count this citizen among them. That is the reason I write and write free, to help you understand where we are in these convoluted times, where everything has been redefined/mutilated to hide the true nature of the era.
Read full article...

Read full article...
---

Monday, May 07, 2007
A 3-dimensional approach to technical analysis
Cycles - Breadth - Price projections
Current Position of the Market
SPX: Long-Term Trend - The 12-year and 10-year cycles are still in their up-phases but their influence will be reduced in the weeks ahead as intermediate and long term cycles bear down into year-end.
SPX: Intermediate Trend - With the price reaching the preferred target area, the rally from 3/14 should be coming to an end.
Read full article...

Read full article...
---

Monday, May 07, 2007
The markets continue to add on points as the S&P gets closer to its destined target of at least 1556. This week closed above the round number of 1500, leaving us just 50 points away, and I'd bet there are plenty of investors who liquidated their stocks along the 2000-2002 decline and are now wondering why they did such a silly thing as that. The buy and hold strategy that got them into that mess now seems to be working perfectly, now that they're no longer in game.
Read full article...

Read full article...
---

Monday, May 07, 2007
THE FINANCIAL SPHERE FLOORS IT
All that remains to seal absolute victory is to re-mastermind the majestic performance put on by the Clinton/Rubin administration in masterfully engineering a strong dollar policy concurrent with rising equity values, while commodities, gold, and interest rates plunged into the abyss.
Read full article...

Read full article...
---

Saturday, May 05, 2007
The good news is: Most of the major indices closed at multi year or all time highs on Friday.
Short Term
The market is and has been overbought for a month or more and it keeps going up.
The blue chips have been outperforming the secondaries which is usually a negative. May, after the first few days, has historically been good for the secondaries, but not the blue chips. The market has been doing a good job of following the typical seasonal pattern recently and, if that continues, there will be a shift to strength to the secondaries in the next few weeks.
Read full article...

Read full article...
---

Friday, May 04, 2007
It's a six-year bear market and counting for the US dollar versus the world's other major currencies. And with the exception of some select sectors such as utilities and real estate investment trusts, US stocks have lagged most of the world's equity markets as well. That's despite a big recovery by the S&P 500 blue chip index in the past couple of years.
Read full article...

Read full article...
---

Thursday, May 03, 2007
The following short video is designed to explain a complex investing subject to the average person. Learn how inflation is affecting your investments. The video starts very slowly, builds on basic concepts and then pulls it all together for a clear perspective at the end. From the intermediate investor to the average person, we believe anyone watching can relate to the important message within.
Read full article...

Read full article...
---

Thursday, May 03, 2007
The real estate market is crashing faster than anyone had anticipated. Housing prices have fallen in 17 of 20 of the nation's largest cities and the trend lines indicate that the worst is yet to come. March sales of new homes plummeted by a record 23.5% (year over year) removing all hope for a quick rebound. Problems in the subprime and Alt-A loans are mushrooming in previously "hot markets" resulting in an unprecedented number of foreclosures.
The defaults have slowed demand for new homes and increased the glut of houses already on the market. This is putting additional downward pressure on prices and profits. More and more builders are struggling just to keep their heads above water. This isn't your typical 1980s-type "correction"; it's a full-blown real estate cyclone smashing everything in its path.
Read full article...

Read full article...
---

Wednesday, May 02, 2007
Stocks are still following the elliptical curve upwards mentioned in our last Investment Analysis Report . In 20 of the last 23 days, the DJIA has closed higher (which has never occurred in the history of the DJIA).
According to Bob Prechter "the most similar string of days ended in July 1929." In his April 2007 Elliot Wave Theorist, Prechter also discusses more recent history: "In 1999, the public was heavily invested in mutual funds, and mutual funds had 96% of their clients' money invested in stocks." (Ed. Note: We all know what followed from 2000-2002.) He continues: "Today much of the public has switched to so called hedge funds (a misnomer).
Read full article...

Read full article...
---

Tuesday, May 01, 2007
I normally don't read many other gold authors, tending to do my own research and publish my newsletter. There are one or two guys I respect who I do read to double check myself – to make sure that I'm not going off on a tangent. This is one reason I have been often quite different from the gold mainstream in my views. I don't get overly caught up in the commodity hype – something that I am going to address later in this piece.
I want to present a picture that has formed in my mind about the probability of a stock driven crash into a severe world economic recession. This scenario seems to be totally out of mind of many gold writers.
Read full article...

Read full article...
---

Tuesday, May 01, 2007
Consider Dow 13,000. We have already surpassed that mark and probably will do so repeatedly in the next several weeks. To skeptics such as myself, there is an underlying fallacy in numbers such as this. When DJIA hits new high water marks, it allows investors to fall prey to the big number fallacy.
The big number fallacy goes something like this: All big numbers, and we can certainly qualify 13,000 as a big number in terms of stock market advances, are considered infinite. There is the possibility that given enough time the Dow could lumber on towards infinity. And the chartists among us will agree, based on the pace of recent years that it could happen in our lifetimes.
Read full article...

Read full article...
---

Tuesday, May 01, 2007
Tony, here. In just two weeks, I'll be flying over to Asia. It's going to be a whirlwind trip, with stops in Hong Kong, Shenzhen, Bangalore, Singapore, and Manila. And I'm frantically trying to put together all the last-minute preparations.
That's why I've asked Dan Ascani, Executive Vice President of our separate affiliate, Weiss Capital Management, and Portfolio Manager of three ETF programs, including the Weiss ETF Strategic Allocation Portfolio, to fill in today.
Read full article...

Read full article...
---

Monday, April 30, 2007
The biggest question of the week is: if the economy is doing so poorly, why is the stock market cheering? Based upon the GDP report, economic growth in the US is a measly 1.3%, way below what even the most pessimistic economists believed. As with any bit of bad news, there is always a silver lining – and here the blame rests firmly upon the housing slump. Next week we get the "big" economic reports that tend to move markets: employment and purchasing managers reports (ISM data).
Either these reports will confirm the GDP report or they will point to a one-quarter wonder and investors will continue to cheer stocks higher. The current guess (as good as it gets in this business!) is that payrolls will grow by roughly 100,000 with a fairly wide range around that figure.
Read full article...

Read full article...
---

Monday, April 30, 2007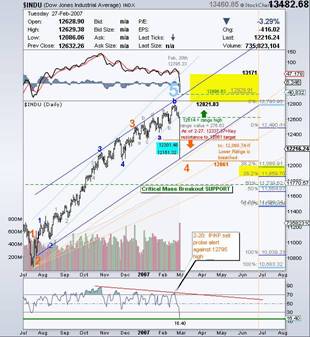 BACKDROP
In April of 2006, we were quite aware of the parabolic price movements taking place amid numerous global equity markets. We weighed in on the matter with a piece entitled Global Contagion.
On September 14, 2006 with the Dow trading at the 11,500 level, Elliott Wave Technology forecast an imminent critical mass building within the Industrial Average. At the time, we shared those observations in our presenting Equity Markets Approach Critical Mass .
Read full article...

Read full article...
---

Sunday, April 29, 2007
Many investors have been taken by surprise by the sudden strength in the broad US stockmarkets, especially given the severe structural problems of the US economy. The breakout to new highs by the Dow Jones Industrials was predicted in a Marketwatch article on 13th April, based on volume studies.
The S&P500 index has not as yet broken out to new highs, but is close to doing so and is expected to shortly. What are the reasons for this sudden strength and to what extent is it an illusion?
Read full article...

Read full article...
---

Sunday, April 29, 2007
"Dead man walking" is the phrase shouted by guards when a condemned prisoner is taken down to Death Row. The words have also been used to describe individuals who face an unwelcome but unavoidable fate. In other words, although they might be employed or involved in a particular relationship right now, circumstances will soon change -- for the worse.
In many ways, this epithet describes today's U.S. equity market. That is despite the fact that the majority of investors seem to believe that the increasingly exuberant run-up we've seen since the fall of 2002 can only lead to one thing: more of the same.
Read full article...

Read full article...
---