Analysis Topic: Stock & Financial Markets
The analysis published under this topic are as follows.

Monday, May 21, 2007
Economy
The Conference Board reported that the U.S. leading index decreased 0.5%, the coincident index increased 0.2%, and the lagging index increased 0.2% last month (April). In April, the NAHB's (national association of home builders) index registered 33; for May, it was 30. The trend is clearly headed down. This is not good.
The Philly Fed Index came in at +4.2 compared with the previous +0.2. For April, the Reuters/University of Michigan's preliminary index of consumer sentiment increased to 88.7 from 87.1. This is good.
Read full article...

Read full article...
---

Monday, May 21, 2007
While many of us have been focusing on mortgage meltdowns, stock surges and inflation indicators, several of our distinguished financial leaders have been looking for ways to improve the marketplace.
Using the argument that rules tend to squash innovation and do little to lure the rest of the globe to our financial shores, the call for more principles and less regulation is quietly making its way out of the backroom and closer to reality.
Read full article...

Read full article...
---

Monday, May 21, 2007
Martin Weiss writes: My global team and I aren't in a race to pick the world's leading stock market.
But right now, the star performer happens to be my personal favorite: Brazil. (And soon, the spotlight could shift to another market I'll tell you about in just a moment.)
Back in January, I told you Brazil was primed to be another "China-like miracle ." I explained why Brazil is one of the greatest beneficiaries of the China boom .
And I told you how Brazil's ethanol explosion would help propel the country even further.
Plus, two weeks ago, I gave you a heads up that Brazil would soon be upgraded by a major U.S. rating agency.
Read full article...

Read full article...
---

Monday, May 21, 2007
A 3-dimensional approach to technical analysis
Cycles - Breadth - Price projections
Current Position of the Market
SPX: Long-Term Trend - The 12-year cycle is still in its up-phase but, as we approach its mid-point some of its dominant components are topping and could lead to a severe correction over the next few months.
SPX: Intermediate Trend - With the price reaching the preferred target area, the rally from 3/14 should be coming to an end.
Read full article...

Read full article...
---

Sunday, May 20, 2007
Can you believe we're just a day's rally away from the 2000 high? I'm sure plenty of investors out there would rather forget about that time, as they were probably buying only to sell out during the severe decline going into the 2002 lows. Now they're wondering if they should be back in. Well, there's thirty-plus points to go and lots of mistakes can be buried in Elliott land as if they never existed.
Some say that controlling emotions is an important part of trading. I say it could be the most important part. The two most destructive emotions for trading are Fear and Greed. I'm sure both have been wreaking havoc lately and are about to kick in on an even more massive scale.
Read full article...

Read full article...
---

Sunday, May 20, 2007
Two weeks ago, we shared with readers a perception that equity markets were bullish like no tomorrow . That general assessment has held course thus far. However, intermediate level timing models are suggesting that equity markets may be fast approaching a juncture of pivotal import. If so, many broad market indices will soon elect one of three critical paths in the days and weeks ahead. Our continued diligence monitoring minor degree trends, together with intra-day price structures; enables us to anticipate which of these critical paths each market is in the process of adopting.
Read full article...

Read full article...
---

Saturday, May 19, 2007
The good news is: The blue chip indices hit multi year or all time highs last week.
Short Term
Some of the small cap short term indicators appeared to have bottomed and turned upward last week. Seasonally the last week and a half in May have been strong, so it appears likely the recent weakness in the small caps is ending.
Read full article...

Read full article...
---

Friday, May 18, 2007
As the Industrials topped out in 2000 and plunged nearly 38 percent into the 2002 low, every indication, according to Dow theory, was that an extended secular bear market had begun. Also, because of the Dow theory phasing along with the normal bull and bear market relationships, as the rally from the 2002 low began, indications were that this was the rally separating Phase I from Phase II of a much longer-term bear market. So, what went wrong? In this article I want to examine the chain of events that have transpired since the 2002 low and in doing so look at where we are and the lessons that have been learned.
Read full article...

Read full article...
---

Friday, May 18, 2007
Short Term Forecast
The DOW and S&P500 are in ending diagonal patterns, indicating that the rally is near completion in a terminal pattern. We should see further choppy upside to complete the pattern, but when ending diagonals complete they are followed by a sharp decline to the starting point of the pattern. The ending diagonal patterns began on May 1st, so we should see a sharp decline to the price action near this date. We then would expect to see a corrective rally in wave 2 up not to make a new high, before further substantial downside.
Read full article...

Read full article...
---

Friday, May 18, 2007
This article examines the current Silver market, Gold market and the Dow Jones Industrial average from a big picture perspective. As always our material is kept simple and easy to understand as we think simplicity is the secret to success.
A picture speaks a thousand words. We think a major macro market trend has been underway since about 2000, and this trend will not stop until an extreme is met in the direction traveled. This trend will take breaks, it will not proceed in a straight line, but ultimately we believe it will continue in the direction it is headed.
Read full article...

Read full article...
---

Thursday, May 17, 2007
Over the past few days I've received quite a few nervous inquiries from investors who worry about the potential for the stock market to crash sometimes between now and year end. Part of this fear is founded on what is known as the Year Seven Phenomenon, which says that the seventh year of the decade usually sees a substantial stock market decline or even a crash, a 'la 1987 and 1997.
The combined influence of the mythology surrounding the Year Seven Phenomenon is often used by perma-bear newsletter writers into scaring their readers away from the stock market during the seventh year of any given decade. A reflection of this latent fear, which all investors have had at one time or other, is found in the following e-mail I received recently: "I am still scared about that history of all years ending in 6 & 7 suffering one 20% correction since 1856."
Read full article...

Read full article...
---

Thursday, May 17, 2007
No matter where you turn for your financial news, one item regularly makes it way to the front page. It is the amazing bull markets in Shanghai , and Shenzhen , China . These phenomenal bull runs reflect a number of situations emerging from China . But make no mistake, to glean important economic signals from the price action and say it reflects the economy of China is not one of them.
They are casinos, pure and simple. Up until recently they could have crashed and the Chinese economy would not have sneezed, two years ago stock brokers in China, were viewed as they were in America in 1982, their names were mud as anything you gave them quickly turned into mud. My wife is currently visiting China , as she should as she is CHINESE. She just left Shenzhen and is now in Chang Chun, with family visits in Beijing and Shanghai still on the schedule.
Read full article...

Read full article...
---

Thursday, May 17, 2007
Larry Edelson writes: It's almost the middle of the year. So now is a great time to see where we've come from and where things might be headed next.
It's also a great time to take a serious look at everything because the portfolios in my Real Wealth Report are on fire! At the end of Tuesday's trading, my subscribers had combined open profits of $40,383!
Read full article...

Read full article...
---

Wednesday, May 16, 2007
Investors who want to beat the market are wondering if the recent rise will ever stop going up. The stock market is experiencing unheard of price appreciation that is breaking all times highs for the DJIA, the Transports and the Utilities. The DJIA is up 23 of the last 26 days, a move that has never occurred before. The DJIA did move up 22 of 25 days in 1955.
Also, the S&P 500 is close to the all time high and the NASDAQ is reaching highs not seen for several years. Is this a short term situation or will the markets continue to surprise to the upside for some time to come? According to Mark Hulbert of the Hulbert Financial Digest , this event is not a sign of anything in particular. It is just noise in the random walk down Wall Street. Let's look at some other factors that might shed more light on the markets.
Read full article...

Read full article...
---

Wednesday, May 16, 2007
Tony Sagami writes: Most of the investors I talk to these days are pretty pleased with the performance of their stock and mutual fund portfolios. After all, the Dow Jones Industrials started the year at 12,463 and marched right through 13,000.
That's pretty good, right? Well, I've never met a profit I didn't like. However, anybody that had some of their portfolio invested in China could have done much, much better. In fact, they could have done up to 10 times better!
Read full article...

Read full article...
---

Tuesday, May 15, 2007
The equity market has, over the decades, been called many things – among them manic-depressive. If you're unsure of a good working definition, just check out the activity at the end of the week. On Thursday the trade deficit and retail sales figures were released that indicated we imported much more than exported, which will cause a severe revision lower to our economic growth estimates in the first quarter.
Read full article...

Read full article...
---

Tuesday, May 15, 2007
Mike Larson writes : By the time you read this, I'll be on my way to the airport. My destination: Las Vegas, where I'll be attending The Money Show. I'm looking forward to meeting many of our subscribers in person and talking to other investment professionals.
But it won't be all business. I'm going a few days early so I can meet up with an old friend and enjoy some of the city's top-notch restaurants, nightlife, and of course, its casinos.
Read full article...

Read full article...
---

Monday, May 14, 2007
Below is an excerpt from a commentary that originally appeared at Treasure Chests for the benefit of subscribers on Thursday, April 24 th , 2007.
All three, the Dow, Transports, and Utilities all closed at record highs on Friday. This is all very good from a Dow Theory perspective, providing confirmation the stock market is in a strong up trend. But how can this be with the economy in the States on the fritz? How can this be with real estate in the dumper and the threat of a credit crunch (a steepening yield curve ) at the same time? Answer: It's a tale of two cities, that of Beijing with the Summer Olympics to prepare for next year; and New York, the center of Western influence, where bankers conspire to inflate the US housing slump away. Combined, these two forces, forces that both demand rapid money supply expansion, are culminating to create the biggest asset and debt bubbles in history, bubbles that when they pop, there will be no coming back for a very long time.
Read full article...

Read full article...
---

Monday, May 14, 2007
Martin Weiss writes : This is Martin Weiss with an urgent update on the latest upward explosion in East Asian markets — why it's happening, what it means, and what you can do if you're not yet taking advantage of it.
Just this past Friday, we witnessed a phenomenon that most observers seem to be understating, underestimating, or missing entirely:
Read full article...

Read full article...
---

Sunday, May 13, 2007
Economy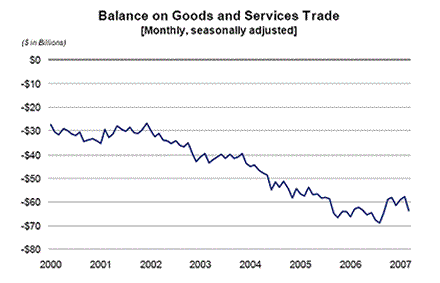 The U.S. Bureau of Economic Analysis announced today (5/11/07) that the monthly goods and services deficit increased from $57.9 billion in February to $63.9 billion in March 2007.
The U.S. Department of Labor reported that the U.S. Import Price Index rose 1.3 percent in April, following on the heels of a 1.5 percent gain in March.
The Bureau of Labor Statistics said that the Producer Price Index for Finished Goods increased 0.7 percent in April. Excluding foods and energy the index price remained unchanged for the second consecutive month.
Read full article...

Read full article...
---