Analysis Topic: Stock & Financial Markets
The analysis published under this topic are as follows.

Sunday, March 04, 2007
It's funny how one day can change everything for so many traders and investors. But at TTC we just did what we do every day and, as you're about to see, the strategy worked quite nicely!
First, we're still very proud to have ridden the bull market all the way up from last summer's lows, insisting each week that the ride wasn't over yet. After reaching the 1360 target on the SPX it was easy to say "done", but I refused after reviewing literally hundreds of charts. Instead, I took the stance that a stronger, multi-decade Fib matrix target on the NYSE was asserting itself, and would need to be reached.
Read full article...

Read full article...
---

Sunday, March 04, 2007
Wow! What a day!
The sharp sell off today in all sorts of equities following the plunge in Asia is slowly confirming that the mood of market participants is now changing from greed to fear. A day like we experienced today is a precursor sign that we are now entering a bear market of larger degree. In this report, we will check what is going on using the Elliott Wave Theory.
To simplify the analysis below, we will only take a look at Canadian equities because we believe the TSX index is by far the easiest to analyze no matter the time frame we are looking at due to the very classical and simplistic patterns it made in the past. In other words, it is less complex than indexes tracking the American equities such as the SPX, INDU and COMPQ but yet still reflects what happens down the border and worldwide.
Read full article...

Read full article...
---

Sunday, March 04, 2007
How do you Spell Stock Market TOP ?
Look at the projection on the chart below - The Red curve SOLD QQQQ 44.73 2c From the Top.
The Original projection was posted 3 days before the top !
"Sentiment is Super Bullish, Bearish transportation not confirming, buying pressure is rising, stocks not responding. Dow has either topped Wednessday or may have 1% more left".
Read full article...

Read full article...
---

Saturday, March 03, 2007
The week was dominated by Tuesdays sell off in China's Shanghai Index by 9%, and its ripple effect across the Worlds Stock Markets, which saw falls of more than 4% across the board by the end of the week.
We had been warning of the likely hood of a sell off in China for much of February. Several articles preceded the sell off in the stock markets including Mondays US Subprime Mortgages Fallout and Declining Housing Market likely to hit the Stock Market.
Read full article...

Read full article...
---

Saturday, March 03, 2007
The good news is: Last Tuesday NASDAQ volume of declining issues (OTC DV) was 24 times the volume of advancing issues (OTC AV). In the past ratios of that magnitude usually occurred near short term lows.
Short Term
Last Tuesday's 24 to 1 ratio of OTC AV / OTC DV ranks 8th highest since 1978, the first year for which I have NASDAQ volume data.
Read full article...

Read full article...
---

Saturday, March 03, 2007
If you think stock markets were the only ones that went haywire this week, look again:
The dollar fell sharply, especially against the yen ... Treasury bonds soared, with the long bond gaining almost a point and a half on February 27 alone ... and gold prices swung all over the place.
In other words, volatility went off the charts in almost every market I track. A volatility gauge maintained by the Chicago Board Options Exchange, for example, exploded 63% in a single day, the biggest increase in U.S. market history.
What single force links all this action? What little (or big!) beast could possibly be behind so many seemingly disparate market moves? Here's my answer …
Read full article...

Read full article...
---

Saturday, March 03, 2007
This week we look at the recent upspike in volatility, see if we can connect some dots with the recent slew of earnings downgrades and the problems in the subprime mortgage world, and follow the money as risk is being taken off the table. I don't "buy" the China problem, but there may be an Asian connection. Let's try and keep it simple as we try and see what's behind curtain #3 labeled "Which direction is the stock market headed?"
But first, if you have not signed up for my Strategic Investment Conference in La Jolla, California, April 19-21, this week's market action is a perfect reason why you should. Want to get the real lowdown on China? Come listen to one of the premier Asian investment experts, Louis-Vincent Gave, give us his on-the-ground view of Asia.
Read full article...

Read full article...
---

Friday, March 02, 2007
On Tuesday February 27, 2006, the market once again told everyone that it is in charge with a 3.3% drop in the DJIA. When the market makes a move like it did, the first thing to do is step back and assess your situation. History shows us that significant drops in the market are not the start of a new bear market. There are exceptions; however, we are looking at the probabilities. As a result I do not believe this is a bear market. At least not yet. Days like today are often followed by further declines. Most times falls like this, present buying opportunities over the next few days, sometimes up to weeks.
This fall was caused by several factors including:
Read full article...

Read full article...
---

Friday, March 02, 2007
For months, I've been warning you that U.S. stock markets looked overbought and were headed for a tumble.
And just last week, I said that a Dow close below the 12,242 level "will be your signal that the recent economic strength is rolling over, that investors think corporate earnings have peaked, and that the weakness in the housing sector is really hitting home."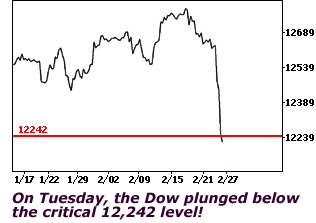 Read full article...

Read full article...
---

Friday, March 02, 2007
Late Tuesday afternoon, Dow Jones Indexes made a seemingly minor confession about a technical glitch that took place earlier that day. Specifically, in the middle of Tuesday's market decline – beginning at 1:50 pm precisely – Dow Jones Indexes began incorrectly reporting the Dow Jones Industrial Average (Dow). In other words, instead of displaying say 12,200 - the actual trading level of the 30-Dow components - the Dow was showing 12,350. Ever vigilant, they eventually identified the problem and "switched over to a back-up system" at 3:00PM.
Now there is no question that computers sometimes do err: instances of market miscalculation and/or miscommunication have dotted the financial ledger in the past - like between the futures and cash markets during the crash of 1987. However, and although a potentially innocent event, the interesting thing about Tuesday's computer malfunction is that it persisted without being recognized for 70-minutes! The question to ask, naturally enough, is what on earth was going on during this 70-minute interval?
Read full article...

Read full article...
---

Friday, March 02, 2007
According to deflationists, we are at the cusp of a collapse in the money supply. There are two articles I previously published titled "Diatribes of a Deflationist" and "Diatribes of a Deflationist II". I do not like to spew information contained in prior research articles because unless I see any change to an argument it is pointless to regurgitate the same information. As such refer to the archives section of this site under my name to review these and other prior material mentioned below.
Read full article...

Read full article...
---

Thursday, March 01, 2007
Tuesdays stock market freefall has Greenspan's bloody fingerprints all over it. And, no, I'm not talking about Sir Alan's crystal ball predictions about the impending recession; that's just more of his same circuitous blather. The real issue is the Fed's suicidal policies of low interest rates and currency deregulation which have paved the way for economic Armageddon. Whether the Chinese stock market contagion persists or not is immaterial; the American economy is headed for the dumpster and it's all because of the wizened former fed-chief, Alan "Great Depression" Greenspan.
So, what does the stumbling Chinese stock market have to do with Greenspan?
Read full article...

Read full article...
---

Wednesday, February 28, 2007
It doesn't take a great treatise or any "rocket science" to expose the ugly and sordid reality of the true condition of the broad US stockmarket - all it takes is a few charts and a modest helping of common sense.
The reason why the Dow Jones Industrials Average features so prominently in the mainstream financial press is that it is the principal tool used by wholesale vendors of stock to sucker the ordinary retail investor into buying at market tops. The recent past provides a perfect example.
Read full article...

Read full article...
---

Wednesday, February 28, 2007
In a keynote speech on February 2nd, in the northern Italian city of Turin, Bank of Italy chief Mario Draghi, warned global stock market operators not to assume that present favorable conditions would last. "It is not realistic to expect that the current orderly market conditions will last forever, we do not know where the next crisis will come from, we must do everything to be prepared," he said.
"Market pricing does not currently incorporate the full range of potential risks. Financial market participants need to take into account in their risk analyses, the full implications of a possible reversal of the current benign conditions, including the possibility of less liquid markets," he warned.
Read full article...

Read full article...
---

Wednesday, February 28, 2007
Yesterday's market crash struck Wall Street like a bat out of hell — the Dow down 416 points, the S&P 500 off 50 points, and Nasdaq pummeled by a whopping 97 points Virtually every investment under the sun — blue chips and tech stocks ... large caps and small caps ... domestic stocks and international stocks — even gold and silver — got hit hard.
But the most dramatic event came at about 3 o'clock in the afternoon Eastern Time: Just when many Wall Street traders figured the worst was over and started packing up to go home, Dow Jones was running into a technical computer glitch. It lost track of the averages and had to catch up suddenly. Result: One moment the Dow was off 200 points; the next it was off another 200 points, and soon, down 546 points!
Read full article...

Read full article...
---

Tuesday, February 27, 2007
The FTSE 100 Index & Major European indices are expected to open sharply lower following on from sharp drops on Tuesday, which saw China's Shanghai index fall by 9% to 2771. The Dow Jones down by more than 3% to 12217, the largest drop since Sept 11th 2001.
All of the major markets broke key technical levels, signaling that the current bear run is likely to continue for some time. At the time of writing, asian stock markets continue to plunge lower on Wednesday morning, with many markets such as Australia and Japan falling further by nearly 4% at mid session.
What to Expect Next ?
Read full article...

Read full article...
---

Tuesday, February 27, 2007
According to a study by Knox and Inkster, a pair of Canadian psychologists, people are much more confident of their horses' chances of winning just after placing a bet, than they are immediately before they lay down the bet. As Robert Cialdini explains, "Of course, nothing about the horses' chances actually shifts; it's the same horse, on the same track, in the same field, but in the mind of the betters, its prospects improve significantly once that ticket is purchased. Once a stand has been taken, the need for consistency pressured these people to bring what they felt and believed in line with what they had already done."
Markets are cyclical. Unfortunately, investors that stay fully invested, diversified, and 'consistent' until the end of this bear market will lose most of their funds. In our last article , we concluded that a greater than 50% correction in the Chinese indexes over the next 2-3 years was highly probable. On Tuesday, the Shanghai Composite Index plunged 8.8%, the most in 10 years. The downside percentage decline for the Dow Jones Industrial Average will be similar and will be detailed further in our next article.
Read full article...

Read full article...
---

Monday, February 26, 2007
Last week I stated: We now have the potential of either seeing a final diagonal that the forum has been alerted to for months now, or an acceleration that will have most traders on the wrong side and flat broke within days. I haven't changed a thing about my view, but I'm not going to force a position if the market's out to get me. As members already know, I'm prepared to trade both ends of the trend.
Many weeks ago I had an upside target of 1472, and since last Monday's post, the target has been adjusted to 1462/1470. At this point that level is very doable, but much higher than that won't be a good thing for short traders.
Read full article...

Read full article...
---

Sunday, February 25, 2007
Martin here with a special gala edition based on our just-completed global teleconference — one of the most popular of all time.
We had four international experts on the line — myself in North America, Larry Edelson in Asia, Joseph Weiss in South America and Claus Vogt in Europe.
We had precisely 5,071 investors registered to call in.And the incoming call volume was so intense, it even overwhelmed one of the best, most robust teleconference providers in America.
Read full article...

Read full article...
---

Saturday, February 24, 2007
The good news is: All of the major averages hit all time or multiyear highs last week.
Short Term
The picture is mixed. The S&P 500 (SPX) fell for 3 consecutive days after hitting a multiyear high last Tuesday.
The chart below covers the last 6 months showing the SPX in red and an indicator that shows the percentage of the last 3 trading days that were up in black. In the past 6 months the SPX has not fallen for more than 3 consecutive days. Except for the occurrence at the end of last year, each time there have been 3 consecutive down days it marked a short term low.
Read full article...

Read full article...
---