Analysis Topic: Stock & Financial Markets
The analysis published under this topic are as follows.

Monday, February 25, 2008

The Irony Of It All
- Toxic credit crunch contagion continues to spread, silently kicking the stuffing out of the economy faster than people think. Whether you want to talk about
credit cards
,
corporations
, or
commercial real estate
– the credit crunch is spreading, and beginning to look nastier all the time. You should know that when banks begin to fail in the States, and they will, things could spiral out of control to the extent controls will to need be placed on both digital and physical movement. Transfers between banks will cease up completely, debts will be called in (so pay them off now), systems from food distribution to medical care will break down, and
Martial Law
will be the result as the population retaliates. Life will change as you know it.
Read full article...

Read full article...
---

Monday, February 25, 2008

Current Position of the Market
SPX: Long-term trend - Election years that fall in the 8th year of the Decennial pattern call for consolidation in the early part of the year followed by a strong finish. But the 6-yr cycle which is scheduled to bottom in late Summer/early Fall could also play a restraining role, followed by an eventual bull market top in 2009-2010.
SPX: Intermediate trend - an extended intermediate-term consolidation is in process.
Read full article...

Read full article...
---

Sunday, February 24, 2008
This continues to be a trader's market, no doubt about it. When it takes three months for the market to swing a hundred points in any one direction, but you can get 30 points in an hour, this is clearly not time to buy and hold.
The problem for many, though, is that they simply don't know how to trade short time frames and most subscription services don't specialize in real time analysis. Not so with TTC! Read on to see how we traded this past Friday and what it really means to be unbiased in this topsy-turvy market.
Read full article...

Read full article...
---

Sunday, February 24, 2008
The good news is: Although the market is likely to retest the January lows in the near future, it is unlikely the new low indicators will confirm the retest.
Short Term - The secondaries lead both up and down.
Read full article...

Read full article...
---

Sunday, February 24, 2008

Since the rally out of the January lows began, I have heard it said on numerous occasions that the strength of the Transports somehow has bullish undertones and implies that the decline is over. The overall spirit of the comments I have been hearing has to do with the fact that the Transports have recovered more than the Industrials. I have also heard that some are saying we now have a Dow theory non-confirmation in place. None of these comments or interpretations are correct in regard to traditional Dow theory.
Read full article...

Read full article...
---

Saturday, February 23, 2008

Volatility continues to expand at a blistering pace, wonderful isn't it? Volatility is opportunity for the prepared investor .
This week's missive will be a little shorter than most as I have had a very bad flu. A number of markets are tipping their hands signaling another round of re-pricing in many markets, further signaling abundant opportunities DEAD ahead. We will cover a few here today. Next week we will address why commodities are not in a bubble in a definitive way - don't miss it
!

Global Decoupling is still proceeding; it is just navigating a rough patch. You can see its outline clearly.
Read full article...

Read full article...
---

Friday, February 22, 2008

Many investors are beginning to think that income investing is every bit as risky as equity investing, but nothing has really changed in the relationship between these two basic building blocks of corporate finance. What has changed in recent years is the nature of the derivative products created by the wizards of Wall Street to deliver both forms of securities to investors. The most popular form of equity delivery today is the three-levels-of-speculation Index Fund. New ETFs are birthed every day and, in total, have become as common as common stocks. Have you noticed that regulators always strive to prevent financial disasters from happening... again?
Read full article...

Read full article...
---

Friday, February 22, 2008

Everyone knows that homeowners insurance is designed to insure against fires and floods but few are familiar with credit default swaps, arcane financial instruments invented by Wall Street about ten years ago. Credit default swaps (CDS) were designed as "insurance" to reimburse banks and bondholders when companies failed to pay their debts. Credit default swaps have become so popular among banks that the
Comptroller of the Currency
(OCC), which regulates banks, reports that they are the fastest growing derivatives product in the market, growing 19% from the second quarter to the third quarter last year to $14 trillion in value.
Read full article...

Read full article...
---

Thursday, February 21, 2008

It's Time to Dump the Federal Reserve
- The credit storm which began in July when two Bear Stearns hedge funds were forced to liquidate, has continued to intensify and roil the markets. Last week the noose tightened around auction-rate securities,a little-known part of the market that requires short-term funding to set rates for long-term municipal bonds. The $330 billion ARS market has dried up overnight pushing up rates as high as 20% on some bonds---a new benchmark for short term debt. Auction-rate securities are now headed for extinction just like the other previously-vital parts of the structured finance paradigm. The $2 trillion market for collateralized debt obligations (CDOs), the multi-trillion dollar mortgage-backed securities market (MBSs) and the $1.3 asset-backed commercial paper (ABCP) market have all shut down draining a small ocean of capital from the financial system and pushing many of the banks and hedge funds closer to default.
Read full article...

Read full article...
---

Thursday, February 21, 2008
Although th e-Mini S&P 500 (e-SPH) has given up its early gains, my sense is that the upmove from yesterday's low to this morning's high is the first upmove in a new recovery upleg that is destined to hurdle key "triple top" resistance at 1369.25-1371.50, and which should trigger upside acceleration towards a retest of the Feb high at 1400.00. From an intraday perspective, let's keep an eye on 1351/00, which represents the 50% pullback support area of the rally from yesterday's low to today's high, and which should contain forthcoming weakness if my bullish near-term count is to remain viable.
Read full article...

Read full article...
---

Thursday, February 21, 2008

Don't Bet the Farm on Rate Cuts! -
The black hole consisting of record consumer debt ($2.52 trillion), falling asset prices, elevated inflation and weakening job and income growth is pulling us inexorably towards recession. As a result, the cacophony for yet more rate cuts has now become deafening. These rate cuts are anticipated to cure all of our ills, from the credit crisis to the Ebola virus. But will the lower interest rates really solve the banking crisis and turn the equity markets around in short order? I thought it would be informative to look at the last two interest rate cycles and compare them to the performance of the equity market.
Read full article...

Read full article...
---

Wednesday, February 20, 2008

"...Individually or together...erm...in pretty difficult and uncertain times...erm..."
IN TIMES OF CRISIS , it's always good to know there are bright, committed people working non-stop to sort things out. Or so everyone seems to believe.
Read full article...

Read full article...
---

Wednesday, February 20, 2008
Judging by the improving technical condition of some of the members of the Financial Select Sector SPDR (AMEX: XLF), such as Bank of America (NYSE: BAC), Citigroup (NYSE: C), AIG, GS, and MS, perhaps this morning's low at 26.20 will suffice as the third such low of a near-term triple bottom completion of the pullback off of the Feb 1 high at 30.00? If that proves to be accurate, then confirmation that a significant corrective low has been established will come only upon a hurdle of the key Feb down trendline resistance now at 27.00. Until then, I only have indications that a tradable low is in place.
Read full article...

Read full article...
---

Wednesday, February 20, 2008
Congress was busy last week – and fortunately not in our back pockets. Between the baseball steroid issues and interviewing/questioning both the Federal Reserve chairman and Treasury Secretary, you'd think they were really looking out for the country's best interest. Congress is in an uproar over whether Roger Clemens (or his wife) did or did not take steroids and who is lying or just mis-remembering. The collective brainpower that was brought to bear on this important national issue was something to behold. From there they interviewed the Fed Chair and Treasury Secretary – and evidently they believe the economy is a bit worse than originally thought, but by yearend should be back on track.
Read full article...

Read full article...
---

Tuesday, February 19, 2008
I am not sure what to make of the whipsaw action in the ProShares UltraShort Inverted SPY ETF (AMEX: SDS) since Friday morning's surge that tested the Jan-Feb resistance line at 64.20. However, technically, that test failed! Now we find the price structure probing the vicinity of its opposite number: its Jan-Feb support line, now at 60.60, which must contain any forthcoming weakness to avert a potential downside acceleration (that represents a powerful advance in the major equity market ETFs). If the bears were in the drivers seat last Friday morning, they now find themselves on the defensive.
Read full article...

Read full article...
---

Tuesday, February 19, 2008
Finding Religion Is Not Necessarily An Uplifting Experience
Uninformed odds players are calling a bottom on the stock market citing extreme technical and sentiment related readings. It's too bad they are not history students as well, but that was the boring and unnecessary elective in school most declined to take seriously. These dip buyers are about to learn a very expensive lesson in my opinion, as in terms of market internals and sentiment, we are currently poised for a crash of potentially monumental proportions. Finding religion will have a new meaning for these guys afterwards as their futures become more uncertain, and their appreciation for gold should be raised a notch or two as well as a panic attack shakes some trees. This is when we expect the CBOE Volatility Index (VIX) take out closing basis triple top resistance at 31 on its way to 45, and perhaps beyond.
Read full article...

Read full article...
---

Monday, February 18, 2008

This week, we saw in mild fashion what can happen when at least one part of society begins to have doubts about another's ability to do its job. We saw Ben Bernanke and Henry Paulson on Capitol Hill this week offering testimony to Congress about the various messes we are involved in as a nation, including, but not limited to: the credit mess, the housing mess, the economic situation, the stimulus package and the list goes on.
Read full article...

Read full article...
---

Monday, February 18, 2008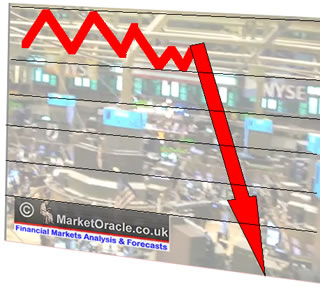 Martin Weiss writes: The U.S. credit markets, the giant growth engine that powers the American economy, are collapsing ... with few credit sectors spared from damage, few investors escaping losses, and little hope of federal action that's quick or strong enough to make a major difference.
Here's what's happening ...
Read full article...

Read full article...
---

Monday, February 18, 2008

BULLS FUMBLE - First-Down - BEARS - The near 20% decline from peak to trough in the October 2007 - January 2008 period, marked a potentially devastating turnover for Bulls. After throwing a near interception back in August, Bulls held steady, recovered, then fumbled critically at the October '07 highs.
Bears handily took possession thereafter, and have scored an undeniable first-down with the lows hit in January. Despite the aid of statist intervention along with surety of more where that came from, the Bullish contingent finds itself in the very rare and awkward position of playing defense.
Read full article...

Read full article...
---

Monday, February 18, 2008

One of the best practitioners of technical analysis of the last 30-40 years, and one of my personal favorites, was Ralph Bloch. Bloch was for many years the chief market technician with Raymond James and was renown for his down-to-earth manner and "say it like it is" approach to the stock market.
Bloch was known for using only the most basic of all analytical tools when it came to T.A. and he relied mainly on the charts and the tape for his trading decisions. When it came to his technical approach to the market, he once described himself as "a ham-and-egger…I'm a Technical Analysis 101 guy all the way."
Read full article...

Read full article...
---