Analysis Topic: Stock & Financial Markets
The analysis published under this topic are as follows.

Wednesday, June 06, 2007
Get this:
China is serious about slowing their stock bubbles. They just increased a stamp tax to .3% on stock sales, formerly a .1% rate. This is not a miniscule amount because it is assessed on every trade - they add up. China has raised interest rates repeatedly, and their senior economic leaders have stated that their stock bubbles are rising too fast. China intends to cool their bubbles. More on that, but they may be the ones to break the entire world financial bubbles - first - judging on the reaction to their February 9% stock declines that led to two weeks of serious Asian market crashes - and one 500 point drop in the US DOW - that led to so much volatility that Dow fell behind in the quotes for several hours that day.
Read full article...

Read full article...
---

Wednesday, June 06, 2007
Not so long ago a triple point gain, like the one that occurred last Wednesday or a similarly sized loss, a healthy correction that hasn't happened in far too long was serious news indeed. The math suggests why. A 100 gain/loss when the Dow was at 8000 represented a 1.25% move whereas a similar gain in the 13,000 point range coughs up half as much of a move but twice the chatter.
With the Dow setting new daily records and the S&P 500 now in the same territory, one wonders what kind of news will move traders do change course. What economic tidbit will convince them to pile in with ever greater abandon or take their money and head for the exits?
Read full article...

Read full article...
---

Tuesday, June 05, 2007
Once upon a time, many years ago, the US stock market lived in fear of a violent band of traders known as the "bond market vigilantes". Whenever the Federal Reserve's money supply measures grew too rapidly, or the US economy grew too strongly threatening to stoke higher inflation, the "bond vigilantes" would take matters into their own hands, by jacking-up 30-year Treasury bond yields as much as 25 basis points or short-term T-bill rates by 50 basis points in a single day.
Former US Treasury secretary Robert Rubin convinced his boss, President Bill Clinton that taming the "bond vigilantes" by reducing the budget deficit was the best way to reach long-term economic prosperity. As Clinton political guru James Carville famously put it, "I used to think if there was reincarnation, I wanted to come back as the president or the Pope or a .400 baseball hitter, but now I want to come back as the bond market. You can intimidate everybody," he once quipped.
Read full article...

Read full article...
---

Tuesday, June 05, 2007
The data from the companies which analyze where investors are putting their money tells us there is a lot of money flowing into international funds and especially Asia. This week's Outside the Box we look at a short but thoughtful piece by my good friend and partner Jon Sundt of Altegris Investments. Jon is personally bullish on Asia, but he offers us a graph and some thoughts of which you should be aware before you start putting money into the high flying Asian funds.
I will add a few comments at the end, but let's jump right into Jon's piece.
Read full article...

Read full article...
---

Tuesday, June 05, 2007
Tony here, with an important update on China. Shanghai's stock market tumbled 8.3% on Monday … and that fall came on top of the 6.5% one-day drop we saw last Wednesday.
The reason for the slide: The Chinese Ministry of Finance decided to raise the stamp duty on stock transactions from 0.1% to 0.3%.
Read full article...

Read full article...
---

Monday, June 04, 2007
The good news is: All of the major indices closed at multi year or all time highs Friday.
Short Term
All of the major indices were up every day last week leaving the market overbought.
Intermediate term
Expanding new highs in a rising market indicate broadening participation.
Read full article...

Read full article...
---

Monday, June 04, 2007
This article was posted for the benefit of subscribers on May 15, 2007
That's where we are at present – right in the heart of the mania. Are we referring to the stock market mania in isolation? Heck no. We are referring to the source of all the manically derived asset bubbles floating round these days, that being the mother of all bubbles then, the credit bubble . And as Doug Noland correctly points out this week in his column, Credit Bubble Bulletin , and as alluded to above, it should be realized these bubbles include more than just 'investments', but all sorts of things (collectibles), such as fine art . Of course the banking community does not care what people are buying and selling just so long as they are doing exactly that, and at an increasing rate if possible so their job of tinkering with growth rates is eased.
Read full article...

Read full article...
---

Monday, June 04, 2007
It was Christmas in June for the financial markets, as they got everything they wanted from the economic reports last week. The consensus view after the reports was that the economic slowdown of the first quarter was merely a blip in the overall scheme, and the economic engine has once again sputtered to life and is running well. Judging by the income and spending report, it is very clear that the consumer is not yet done making purchases – however it is unclear how much of the spending is going toward the high and rising energy products. The employment report was a bit better than expected, however some are quibbling about the "birth/death" rates that are a part of the calculation. Without getting too technical, it doesn't refer to employees being born or dying, rather businesses going out or coming into existence.
Read full article...

Read full article...
---

Monday, June 04, 2007
When I think of the Old World, among the images that first spring to mind are those of medieval castle towns like Heidelberg, where Rupert the Red founded the fourth university of the Holy Roman Empire in 1386 … or of the Acropolis, rebuilt by Pericles during the Golden Age of Athens between 460 and 430 BC.
It's only on second thought that I remember the modernity of today's Europe.
Similarly, when you think of the European economy, you typically associate it with outdated economic models — burdensome taxation, non-productive social support systems, and a tangled web of government regulations.
Read full article...

Read full article...
---

Monday, June 04, 2007
Economy
The Reuters/University of Michigan's final index of consumer sentiment increased to 88.3 in May, from 87.1 in April.
The Institute for Supply Management's factory index rose to 55 in May, from 54.7 in April.
The National Association of Realtors reported that pending home resales fell 3.2% to 101.4, the lowest since February 2003. The March report was revised down 4.5%. The index is down 10.2% from April 2006.
Rising mortgage defaults are increasing the supply of houses for sale. Banks and other lenders are raising their lending standards, resulting in home purchases being less affordable to fewer buyers.
Read full article...

Read full article...
---

Sunday, June 03, 2007
Current Position of the Market.
SPX: Long-Term Trend - The 12-year cycle is still in its up-phase but, as we approach its mid-point some of its dominant components are topping and could lead to a severe correction over the next few months.
SPX: Intermediate Trend - With the price reaching the preferred target area in an appropriate time frame, the rally from 3/14 should be coming to an end.
Read full article...

Read full article...
---

Saturday, June 02, 2007
We track both the primary (long-term) trend, and the short-term trend. Knowing both is key to making money trading or investing in the stock market . Simply, increase exposure when playing a short-term trend that is in the same direction as the primary trend.
Read full article...

Read full article...
---

Saturday, June 02, 2007
The bull market in stocks continues, but to hear various exponents of the bearish persuasion talk, you'd think the party was ending right now. At least that's the impression I get reading some of their weekly rants on various Internet sites.
Read full article...

Read full article...
---

Saturday, June 02, 2007
"The Raging Bull" we spoke of a couple of weeks ago, appears to have taken up permanent residence across many sectors of the financial sphere. This bull has been relentless, cunning, and quite masterful in dealing with the plethora of participants who have been eagerly anticipating some type of correction – if not an outright crash!
After 11-weeks of nothing but blue sky, we suspect this bull may simply be growing bored of the dominance it imposes upon bears at will. Perhaps a couple of weeks respite in June ought to be a minimum at which this easily antagonized bull may once again become angered, electing to resume its deceptive charge with renewed fury.
Read full article...

Read full article...
---

Thursday, May 31, 2007
Effective yesterday, the Chinese Ministry of Finance increased its so-called stamp tax on stock market transactions from 0.1% to 0.3% in an effort to curb speculation in the Chinese stock market. This stamp tax is nothing but a transactions tax imposed on both buyers and sellers of stocks.In reaction to the increased tax rate, the Shanghai Composite stock index fell 6.5%.
Read full article...

Read full article...
---

Thursday, May 31, 2007
In this editorial we have incorporated long term charts for gold, silver and the Dow Jones Index with a twenty seven year support line.
In the below charts you will notice:
Dividing two markets together to create a ratio helps us determine which market is outperforming the other market. For example, in the chart above, when the black line heads higher, the NYSE is outperforming Silver and when the black line heads lower Silver is outperforming the NYSE.
Read full article...

Read full article...
---

Wednesday, May 30, 2007
Chinese Government officials got real worried when the Shanghai continued its parabolic rise and blew through its 12 year Major resistance level.
This morning, their markets dropped over 6% after the government increased the stamp tax on Security transactions. The news media are making a "big deal" out of the tax increase by running headlines that say, "China China's CSI 300 Drops After Transaction Tax Tripled ".
Read full article...

Read full article...
---

Wednesday, May 30, 2007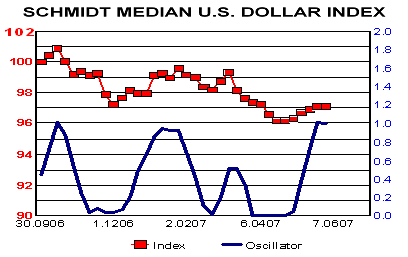 Investing in paper equities has apparently become far easier. Either a stock will be taken private by a speculative investment fund or it will be purchased with money from China's foreign currency reserves. Investment gains have rarely been so assured. Not since internet stock bubble or Florida condo mania have investors faced such odds of winning. Combine those odds with a Federal Reserve dwelling in the la la land of core inflation creates a near perfect story for placing wealth into paper equities.
Read full article...

Read full article...
---

Tuesday, May 29, 2007
The decline in the S&P 500 and other broad market indices likely was a shot across the bow for what lies ahead later in the year. Technically the S&P could have completed the move up, but technical evidence suggests that a topping formation will develop over the course of the summer before a sharp decline in September/October.
Read full article...

Read full article...
---

Tuesday, May 29, 2007
Tony Sagami writes: : I've never considered myself to be a yuppie. Even when I was younger, I never drove a BMW … bought a Rolex … or belonged to a country club. I'm just the simple son of a vegetable farmer. I drive a domestic pickup truck, wear a Timex, and shop at Wal-Mart and Costco.
Still, the yuppies were a powerful consumer force. They had a major impact on both the U.S. economy and the stock market. People who invested in companies catering to yuppies made small fortunes!
Read full article...

Read full article...
---