Analysis Topic: Economic Trends Analysis
The analysis published under this topic are as follows.

Thursday, June 28, 2007
The Chicago Fed publishes a national economic activity index each month that only the Chicago Fed's economic research department and I pay attention to. This index is not a leading one, but is a coincident one.
The Chicago Fed National Activity Index (CFNAI) is a weighted average of 85 existing monthly indicators of economic activity drawn from five broad categories: 1) output and income 2) employment, unemployment and hours 3) personal consumption, housing starts and sales 4) manufacturing and trade sales and 5) inventories and orders.
Read full article...

Read full article...
---

Wednesday, June 27, 2007
That's the conventional wisdom, but recent reports from retailers might suggest otherwise. Early in June, Bed Bath & Beyond issued a profit warning. BB&B's chief executive, Steven Temares, said: "Based upon what we have experienced and has been reported by others, the overall retailing environment, especially sales of merchandise related to the home , has been challenging" (emphasis added).
Read full article...

Read full article...
---

Tuesday, June 26, 2007
We live in an era of deregulation, where economists and politicians speak of "the market," not government, as the appropriate vehicle for economic decisions. President Ronald Reagan said in his 1981 inaugural address, "Government is not a solution to our problem, government is the problem."
Read full article...

Read full article...
---

Monday, June 25, 2007
"...If depression is short-hand for fear of the future, then here's a glimpse of what lies beyond today's bubble in credit, debt and financial confidence..."
YOU COULD KNOW less than even the British government about trading gold and foreign currencies for profit, but you'd still have to reckon the money of this mystery country a "buy":
Its jobless rate just hit a 9-year low of 3.8%, and there's plenty more growth to come. The ratio of jobs to jobseekers rose yet again last month.
Read full article...

Read full article...
---

Monday, June 25, 2007
The U.S. trade deficit with the rest of the world leapfrogged in recent days: aside from goods and services, we are now importing "consensus based crisis management" from Japan. Out of fear that a cleanup of bad loans would trigger widespread defaults, Japanese banks got themselves deeper and deeper into trouble by hushing up the problems. We are talking about the crisis at Bear Sterns' subprime hedge fund. The crisis shows that major adjustments on how the market prices risks are overdue; this may have negative implications for stocks, bonds, commodities as well as the dollar.
Read full article...

Read full article...
---

Friday, June 22, 2007
In the 1930's during the Great Depression, there are literally thousands of cases where people stuffed money under their mattresses because they were scared of putting it in banks. They had confidence that when they needed the money six months or a year later that it would buy them what they needed to survive. The fact that we were in a deflationary depression validated their strategy. In a deflationary environment, cash is King. Hold onto it and it will buy at least as much as it did when you stuffed it under the bed, maybe even more. I think that a few too many Americans paid a little too much attention to these stories and automatically assume that the same strategy will work today.
Read full article...

Read full article...
---

Thursday, June 21, 2007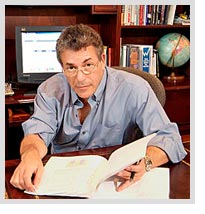 Larry Edelson writes: I am thoroughly convinced that they're smoking something in Washington. After all, the pundits by the Potomac keep dishing out these absurdly low inflation figures, thinking you're too dumb to realize they're full of it!
Case in point: Last Friday's Consumer Price Index (CPI) data. The so-called "core" inflation rate rose a modest 0.1%. So every politician on the Hill plus all the idiot Wall Street analysts grabbed onto that figure and proclaimed inflation "dead."
Inflation? "Not a problem" … "tame" … "easy to deal with" — those were some of the comments and headlines that came out after the figure was released.
Read full article...

Read full article...
---

Wednesday, June 20, 2007
In our weekly reports, we often take the classical view on money. While we admit that monetarism may fail as an easy policy approach, from a fundamental standpoint, the supply of money will ultimately decide the long term rate of interest.
The classical view holds that interest rates will adjust to the equilibrium level between savings and investment. The prevailing Keynesian view is that interest rates will adjust to the supply and demand for money.
Read full article...

Read full article...
---

Tuesday, June 19, 2007
Though headlines are dominated by the war in Iraq, everyone realizes there is something wrong with the US economy. But few have focused on the connection between the two.
It is clear that the post-World War II era of worldwide dollar hegemony is beginning to slip. The ideas of a "New American Century" put forth by Washington-based neocons actually may represent a last-gasp attempt to use military force to hold onto a system whereby the US has supported its domestic economy through trade domination of most of the rest of the world.
Read full article...

Read full article...
---

Tuesday, June 19, 2007
THE NATIONAL DIVIDEND SOLUTION
The way out of the monetary dilemma, said Douglas, was not to opt for Marxism or socialism, because economic democracy cannot be achieved by another collectivist "-ism" to replace finance capitalism. Also, Marxism, like finance capitalism, assumes an economy of scarcity. It simply says that workers have a greater right to the limited supply of manufactured products than do business owners.
Read full article...

Read full article...
---

Monday, June 18, 2007
The conclusion that most economists are naive, sometimes dangerously so, is something that has been hinted around at here for years, but now that the Wall Street Journal seems to concur, maybe it's time to stop asking the question and just say it.
Most economists are naive.
Or, maybe they're just too optimistic. Actually, in many cases, the two adjectives describe the same phenomenon - the willingness to suspend belief that something bad is likely to happen (or is already happening) due to a lack of real-world experience.
Read full article...

Read full article...
---

Monday, June 18, 2007
The mass media show attractive images of the comfortable lifestyles of the upper income earners who benefit from the cash-rich global economy. Which luxury car to drive, which championship golf course to frequent, which hedge funds to invest in, which stock brokers to consult—good questions if you've got the money! But behind this attractive scenery, debt, bankruptcy, and poverty are a tsunami that is overwhelming much of the world's population, including growing numbers in the U.S.
Following close on the heels of these calamities is a worldwide breakdown in law and order. Drug dealing, money laundering, gangsterism, white collar crime, political corruption, weapons trafficking, human slavery, terrorism, and endemic warfare are the dark side of a global financial system where everything has a price, the rich seem above the law, and individual security is almost impossible to attain.
Read full article...

Read full article...
---

Monday, June 18, 2007
It is nice to be able to take a bit of a vacation, come back and see that everything is just as you left it. Including the SP500. OK, so there was a bit of volatility while on the trip, with markets rising and falling by 70+ points in all but three trading days for the month of June. Everything from China to inflation to interest rates has been blamed or credited with the daily changes in the markets, however it just may be that investors are struggling with still high valuations and a likely slowing to the economy.
Read full article...

Read full article...
---

Saturday, June 16, 2007
It's official. Mark your calendars
.
The crash of the U.S. economy has begun.
It was announced the morning of Wednesday, June 13, 2007, by economic writers Steven Pearlstein and Robert Samuelson in the pages of the Washington Post, one of the foremost house organs of the U.S. monetary elite.
Pearlstein's column was titled,
"The Takeover Boom, About to Go Bust"
and concerned the extraordinary amount of debt vs. operating profits of companies currently subject to leveraged buyouts.
Read full article...

Read full article...
---

Saturday, June 16, 2007
If this headline looks familiar, it is because yesterday's commentary had almost the same headline, save for "PPI" instead of "CPI." (Speaking of yesterday's commentary, I inadvertently omitted a chart, which no one called to my attention. Hmm, perhaps no one other than me read it!) As the table below indicates, headline CPI inflation has accelerated, primarily because of spiking energy prices. But excluding energy and food prices, the so-called core rate of CPI inflation is moderating (see Chart 1). On a year-over-year basis, the previous peak in all-items CPI inflation occurred way back in September 2005 at 4.7% -- a full 200 basis point over its current rate.
Read full article...

Read full article...
---

Friday, June 15, 2007
Imagine this for a scene: It is that fateful night and you are on the Titanic. You have just witnessed a collision with a massive iceberg and can hear the water rushing into the 'waterproof' compartments. The Captain comes to the railing and begins telling the passengers in a very monotonous, soothing, familiar pentameter that everything is fine. You look up and there stands...Ben Bernanke??
Read full article...

Read full article...
---

Friday, June 15, 2007
Just like every headline economic statistic of late, the Finished-Goods All-Items PPI increased a greater-than-expected 0.9% in May after a 0.7% rise in April. As the table below shows, another sharp rise in energy prices dominated the increase in finished-goods prices. After six consecutive monthly increases, finished-food prices declined marginally.
Read full article...

Read full article...
---

Tuesday, June 12, 2007
UK inflation as measured by the Bank of England's preferred measure, the Consumer Price Index (CPI) fell to 2.5% for May 07, from 2.8% for April 07. The rate of 2.5% is still above the banks target rate of 2%. The more widely recognised measure of UK inflation, the RPI fell to 4.3% from 4.5%, and is significantly above its original target of 3% which was abandoned in favour of the CPI measure, as clearly the CPI is more easily managed or manipulated than the RPI which shows a more significant continuing failure of the Bank to control UK Inflation.
Read full article...

Read full article...
---

Tuesday, June 12, 2007
"...When this bull market in 'luck' runs out, shorting the Pound might prove a wise course instead of buying fixed-income gilts..."
GOOD NEWS for lucky cash-savers in Britain . The Pound in their pocket lost only one-third of a penny in purchasing power during May 2007.
Okay, so it dropped 2.5p from a year earlier – and £1 spent on the High Street will buy 15% less than it commanded in spring 1997.
Read full article...

Read full article...
---

Monday, June 11, 2007
Better late than never, huh? The so-called Fed model is often used to gauge the under-over-valuation of corporate equities by comparing the earnings yield on, say, the S&P 500 with the yield on the Treasury 10-year security. The same kind of analysis can be applied to owner-occupied housing by dividing the "earnings" or services produced by owner-occupied housing by the market value of that housing. The services produced by housing are estimated by the Bureau of Economic Analysis in its National Income and Product Table 2.45U, line item "Personal Consumption Expenditures: Owner-Occupied Nonfarm Dwellings: Space Rent."
Read full article...

Read full article...
---