Analysis Topic: Economic Trends Analysis
The analysis published under this topic are as follows.

Tuesday, June 12, 2007
"...When this bull market in 'luck' runs out, shorting the Pound might prove a wise course instead of buying fixed-income gilts..."
GOOD NEWS for lucky cash-savers in Britain . The Pound in their pocket lost only one-third of a penny in purchasing power during May 2007.
Okay, so it dropped 2.5p from a year earlier – and £1 spent on the High Street will buy 15% less than it commanded in spring 1997.
Read full article...

Read full article...
---

Monday, June 11, 2007
Better late than never, huh? The so-called Fed model is often used to gauge the under-over-valuation of corporate equities by comparing the earnings yield on, say, the S&P 500 with the yield on the Treasury 10-year security. The same kind of analysis can be applied to owner-occupied housing by dividing the "earnings" or services produced by owner-occupied housing by the market value of that housing. The services produced by housing are estimated by the Bureau of Economic Analysis in its National Income and Product Table 2.45U, line item "Personal Consumption Expenditures: Owner-Occupied Nonfarm Dwellings: Space Rent."
Read full article...

Read full article...
---

Monday, June 11, 2007
That the great body of economists think that a fall in general prices is deflationary by definition and a clear indicator of an impending recession tells us how much this phenomenon is misunderstood. On the basis of this understanding central banks have implemented price stabilisation policies which in themselves carry the seeds of future recessions. The situation is so bad in the economics profession that I am inclined to go so far as to suggest that only a handful of economists actually know what deflation really means. (Classical economists had no such difficulty).
Read full article...

Read full article...
---

Saturday, June 09, 2007
In nominal terms, the U.S. April trade deficit narrowed significantly to $58.5 billion from March's downwardly revised gap of $62.4 billion. In price-adjusted terms, the trade deficit in goods also narrowed sharply in April to $54.9 billion from March's $59.6 billion. So, this more-than-expected narrowing in the trade deficit ought to cause forecasters to bump up their secondquarter GDP forecasts, right? Wrong. Most of the narrowing in the deficit was the result of weaker imports, not stronger exports. In price adjusted terms, imports of goods fell 3.6% month-to- month, while exports fell 0.4%.
Read full article...

Read full article...
---

Thursday, June 07, 2007
Today the White House updated its economic forecast from that made last November. Back then, the Bush administration was expecting real GDP growth of 2.9% in 2007 on a Q4/Q4 basis. Now it is forecasting 2007 real GDP growth of 2.3%. Given the 0.6% annualized growth in Q1, this forecast implicitly assumes average growth of 2.87% in the remaining three quarters of 2007. For 2008, the White House is forecasting even stronger growth from the assumed 2.87% over the remainder of 2007 - 3.1% for 2008. As far as I can tell by looking at the White House's annual average forecast for the 3-month T-bill rate in 2007, 4.8, it assumes no Fed interest rate cuts this year.
Read full article...

Read full article...
---

Thursday, June 07, 2007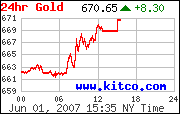 Are you feeling sorry for gold lately? Fraid it doesn't need your sorrow with its present price action. As I have said before and will say again gold will do what gold wishes to do.
Read full article...

Read full article...
---

Wednesday, June 06, 2007
The Federal Open Market Committee (FOMC), the monetary policy arm of the Federal Reserve, has communicated that it is quite content to hold the federal funds rate at 5-1/4% for an extended period despite four consecutive quarters of sub-par real economic growth and a moderation in core consumer inflation (i.e., excluding food and energy components). Why is the FOMC content to remain on hold? Because it has a forecast calling for enough of a rebound in economic growth later this year to avoid a recession and it desires further moderation in core inflation.
Read full article...

Read full article...
---

Wednesday, June 06, 2007
"The issue on the table is not whether the US needs to take action to respond to the interventionist policies of China and Japan in this key area, but what form that action should take." Sander Levin, Chairman trade subcommittee House Ways & Means Committee.
"The time for talk has passed; we must act now to end this unfair trade practice that cripples American industries." Charles Rangel, Chairman House Ways & Means Committee.
"…by going after China, you in the Congress are playing with fire… (risking) a policy blunder of monumental proportions…if the China bashers get their way."
Read full article...

Read full article...
---

Wednesday, June 06, 2007
Last week we learned that seasonally-adjusted car and truck sales were down a little from April, which were down a little from March, which were down a little from February, which were down a little from January, which were down a little from December (see Chart 1). Today we learned that seasonally-adjusted chain store sales in May, according to the International Council of Shopping Centers (ICSC) were down 0.7% from April. Nominal gasoline prices may energize nominal May retail sales to be reported next week by the Census Bureau.
Read full article...

Read full article...
---

Wednesday, June 06, 2007
Tuesday's stock market declines in the US were attributed to a prolonged rally in bond yields resulting from stronger than expected services ISM survey and remarks from Fed Chairman Bernanke reiterating that core inflation "remains somewhat elevated" . The services ISM hit a 13-month high of 59.7, accompanied by broad improvements in the employment, new orders and prices components, bond yields surged to 4.99%, their highest since mid August.
The services ISM combined with Mr. Bernanke's remarks and last week's strong manufacturing ISM are reducing the prospects for a 2007 Fed cut on the basis of stabilizing growth and prolonged inflationary risks. This is beginning to upset US equities, rendering the June outlook to be bearish from purely technical terms (see S&P 500 chart below).
Read full article...

Read full article...
---

Tuesday, June 05, 2007
In the June 4th edition of The Wall Street Journal, Greg Ip has written a piece explaining why the National Income and Product Account data, the data from which GDP estimates are derived, can be confusing and erroneous for various reasons (see "Options Hinder Efforts to Gauge Economic Growth,").
Read full article...

Read full article...
---

Sunday, June 03, 2007
I have written numerous times on the consequences of the Fed's loose monetary policy and how it can aggravate the current account deficit. Until recently figures confirmed my worst fears that the current account was racing along unabated. But what else should one expect given the monetary boom that the Fed unleashed. Now the actual CAD figures don't matter -- what matters is the trend and the reason for it. The reason has already been established and is now monetary history.
Read full article...

Read full article...
---

Saturday, June 02, 2007
Thoughts from the Frontline - In this issue:
Some Discretion in Discretionary Spending, Please
Real Consumer Spending is the Key
The Great Puzzle
Edinburgh, Barcelona, Planes and Trains
Are we on a slippery slope of a recession, or was last quarter's weak GDP a turning point? This week's travel shortened e-letter looks at recent data and re-visits some thoughts on consumer spending from friend Joe Ellis' superb book called Ahead of the Curve. This week I wrote from a rainy Edinburgh, Scotland, although this afternoon was pleasant enough, allowing me to walk around some. But on to important matters.
Read full article...

Read full article...
---

Saturday, June 02, 2007
... will hurt you
This is not going to come as a big shock to anyone, but it is now rather clear that the media is aiding and abetting the Federal Reserve (and others) in its do-nothing stance with regards to interest rates. Taking a look back throughout history, media complicity is a common occurrence and usually happens when government at some level needs 'cover' to execute a particular policy.
Read full article...

Read full article...
---

Friday, June 01, 2007
Each month the BLS heroically makes an adjustment to private nonfarm payrolls for the estimated hiring by new businesses not yet included in the BLS survey and the firing by closed-down businesses not captured in the BLS survey. This is called the "birth/death" adjustment. The birth/death adjustment does not take into account
cyclical
influences on business start-ups and failures.
Read full article...

Read full article...
---

Friday, June 01, 2007
This week US Treasury Secretary, Hank Paulson, held a summit meeting with Chinese Vice-premier Wu Yi in Washington DC . It was mostly overlooked in the press and media as the fight over funding the war in Iraq consumed the headlines. The impact of this summit sets the table for the future of the United States in a far more meaningful manner as it outlines the coming miscalculations of the Mandarins in Washington DC . And like an exploding cigar, these issues have the potential to blow up in our faces, the unintended consequences of which can create investment opportunities that can be anticipated.
In the last several months the protectionist bombast (soon to be bomb blast) has been spewing forth from the most ignorant of our federal public servants who inhabit the Di strict of Columbia . These elected representatives from both sides of the aisle have decided to try to pin the tail on the Chinese for the failure of US public policy to set the table for wealth creation, and an expanding US economy, in the emerging global economy.
Read full article...

Read full article...
---

Friday, June 01, 2007
As a steady stream of bad U.S. economic news accumulates, one wonders when the stock market will finally take notice. After years of highly effective spin coming from Washington and Wall Street, stock investors must re-learn how to recognize bad news, and to stop making lemonade out of every economic lemon that comes their way.
Read full article...

Read full article...
---

Thursday, May 31, 2007
Surely inflation is our greater enemy, isn't it? Rising prices are bad for the economy. Falling prices are a good thing, aren't they?
Inflation and deflation are due more to mindset than anything else. Let me explain.
Read full article...

Read full article...
---

Thursday, May 31, 2007
" By a continuing process of inflation, governments can confiscate, secretly and unobserved, an important part of the wealth of their citizens ." (John Maynard Keynes, chief architect of our present-day fiat money system)
The Mission Statement of the Federal Reserve as stated on their website is to "… to provide the nation with a safer, more flexible, and more stable monetary and financial system."
Read full article...

Read full article...
---

Thursday, May 31, 2007
Larry Edelson writes: Not many people noticed, but on May 17 the folks in Washington upped the country's national debt limit to $9.815 trillion . That's a whopping $1.635 trillion increase in less than three years.
The U.S. was broke when the debt ceiling hit $7 trillion … it was broke when the limit was raised to $8.18 trillion … and things just keep getting worse.
Read full article...

Read full article...
---